Gridlock Isn't Confined To Cars...But There's Hope In Downtown Beirut
Kirk Albrecht
Swiss schoolteacher Ueli Kern says when he first came to Lebanon, it reminded him of his scenic homeland. But that stopped once he got behind the wheel on his way to the private school where he works. "If I don't leave by 6:45 a.m., my 25-minute trip will take more than an hour," he notes. "The traffic here can drive you crazy." Another man now living in Beirut who navigated Cairo's knotted streets for 10 years agrees: "This place makes Cairo look like paradise."
Gridlock. Since Lebanon's civil war of the 1970s and '80s--when an "I'll do what I please" attitude took over motorways--driving has been the bane of Beirutis. With low customs duties on cars and no inspections, roads are clogged with vehicles. Just a handful of traffic lights work, so intersections are a free-for-all. Four thousand new traffic lights are waiting in the harbor for installation, but a still unreliable electricity grid has prevented their use.
SIGNS OF LIFE. And gridlock in Lebanon extends past the roadways. No country in the region has more to gain from peace--because Lebanon's very territory is divided into Syrian, Israeli, and Islamic guerrilla zones of influence, and because there's so much to rebuild. But the past year has tempered expectations of a speedy turnaround as the peace process has ricocheted between hope and despair. Lebanese joke, with disgust, that their country has two capitals, Beirut and Damascus. 35,000 Syrian troops remain in the country. Crises are solved only after a trip to "consult" with Syrian President Hafez Al-Assad. Case in point: Municipal elections, an important step in political reform, were slated for June but are now postponed because the power troika--President Elias Hrawi, Prime Minister Rafik Hariri, and Speaker of Parliament Nabih Berri--couldn't agree on election rules. Hariri was soon dispatched to Damascus to find a solution.
Lebanon's economy, while showing signs of life, is struggling. Trading on the Beirut Stock Exchange, reopened 15 months ago, is sluggish in the few issues listed. Construction last year, while active, was off 40% from 1995. Unemployment approaches 20%. "There is no consumption by the average consumer," says Michael Bacos Young, editor of The Lebanon Report. "I know, because I'm one of them." While the government has kept corporate taxes unrealistically low at 10%, indirect taxes on everything from gasoline to phone lines are pinching pocketbooks.
It's not that Lebanon has no money. Yusuf Khalil, director of financial operations at the central bank, says there are $2.6 billion in local bank deposits, more than one-third of that in treasury bills yielding a steep 15%. But Khalil says such attractive T-bills inhibit other investments. Lebanese have more than $4 billion outside the country, but it's not returning as fast as planners had hoped. Says Khalil: "Lebanese investors living abroad thought stability had returned before, but they were burned. So they're very cautious."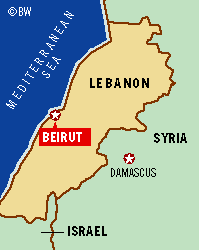 One company trying to break the cycle of gridlock is Solidere, a private land and real estate development company created in 1994 and owned by a mix of investors and property owners who traded their land for shares. The brainchild of Premier Hariri, Solidere owns most of the former central business district, 1.8 million square meters of land it is developing for business, banking, government, and recreation. It netted $77 million earlier this year by issuing global depositary receipts on world markets. In an upbeat prospectus, Merrill Lynch & Co. called the company "a unique investment opportunity," since it has no real competition. But the report did caution that "country risk remains a major downside" because of the floundering peace process.
If you look only at downtown Beirut, the future looks promising. The entire area is a construction site. Many ruined buildings have been torn down, while 124 worth saving are being restored. Solidere promises that all infrastructure will be done by the end of this year and all development in 1999. Nasser Chammaa, the ever-optimistic chairman of Solidere, says: "The more I see the pace of improvements, the more I know Beirut will once again rise." But getting from here to there may take more time than he thinks.