Dec's Seething Shareholders
Digital's management may face a revolt
Paul C. Judge
The frustration felt by shareholders of Digital Equipment Corp. is understandable. Perennial turnaround schemes and management shakeups have failed to restore earnings. Sales of the company's Alpha computers will probably be down for the quarter ending June 30, even as the rest of the industry is booming. Instead of delivering the $1 per share in earnings for fiscal 1997 that CEO Robert B. Palmer promised last fall, analysts say the company will bring in just 65 cents. The company's headline-grabbing suit accusing Intel Corp. of stealing Alpha-chip technology may cost millions--without boosting Alpha's prospects or Digital's. Indeed, Intel countersued on May 28, hinting that Digital's supply of Pentiums could dry up.
All this has played havoc with Digital's stock, which was at 36 on May 28, down 14% since Palmer became CEO in 1992--a stretch in which the Standard & Poor's 500-stock index has nearly doubled. "The amount of shareholder value lost in the last five years because there wasn't somebody there creating pressure for effective change is staggering," says Robert A.G. Monks, principal of LENS Inc., a shareholder action group.
Now a would-be savior for Digital shareholders has surfaced. Providence Capital Inc., a small money-management firm with a history of prodding lackluster performers into action, says it has commitments from institutional investors holding more than 30% of Digital's shares to attend a meeting in New York on June 18 to discuss ways to "increase shareholder value."
Can Providence, which has only a tiny stake, organize Digital's shareholders and get them to act on their dissatisfaction? Providence President Herbert A. Denton says "most of the major institutional shareholders" have agreed to come to his powwow. But of Digital's eight largest shareholders, five say they have no plans to attend the meeting and two decline to comment. Among top shareholders, only Prudential Investments, which holds 4.4%, confirms that it will be there. "What's to lose?" says Thomas R. Jackson, portfolio manager of the Prudential Investments Equity Portfolio.
Even if Providence doesn't lead the charge, Digital shareholders are increasingly restless. Separate resolutions demanding that Digital retain an investment banker to shop the company and rescind its poison pill have been submitted by two individual shareholders and will appear on Digital's September proxy statement. Another proposal submitted in late May by the Communications Workers of America, which holds 48,000 Digital shares, calls for splitting the job of chairman from that of CEO. "Does Digital management have a plan to preserve and enhance shareholder value?" asks one large institutional holder. "If not, the board has to take some action."
Shareholders may have a new concern. The patent suit against mighty Intel--a bold move that lifted the Alpha chip's profile--may backfire. In its countersuit to Digital's patent-infringement action, Intel demands that Digital return confidential documents spelling out Intel product plans. "When a company is questioning our integrity, we don't feel comfortable giving them our most advanced confidential materials," says an Intel spokesman. More ominous was the news from Intel that Digital's contracts for Pentium-class microprocessors run out in September, raising the possibility that Digital's $2 billion PC business could face troublesome shortages.
THE BOARD'S SIN. Digital calls the countersuit "nothing more than a thinly veiled attempt to cause concern among Digital customers." The company also says it has long-term contracts with its suppliers, including Intel. And Digital executives have said repeatedly that Intel risks violating antitrust laws if it slows or shuts off the supply of Pentium chips to Digital. But as a backup, Digital has signed up to use the K6 chip from Intel rival Advanced Micro Devices.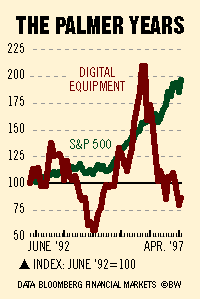 With all these issues swirling, the board that has stood by Palmer and his management is coming under scrutiny. Thomas P. Gerrity, a Digital director who is dean of the Wharton School, wound up last month on a list of "America's least-valuable directors" compiled by the Brotherhood of Teamsters. His sin: voting to pay Palmer $8.3 million in salary, bonus, and options last year. That's after Palmer has cut the workforce in half and racked up $2.6 billion in losses since he took charge in 1992. Gerrity wasn't available to comment. But his seat--and Palmer's--is probably getting awfully hot.
Before it's here, it's on the Bloomberg Terminal.
LEARN MORE