Beyond The Stains On A Soapmaker
by
How's this for a monster scare: In barely five months, shares of USA Detergents (USAD) have collapsed from 451/4 a share to 83/4 on May 8, before edging up to 121/4 on May 28.
No wonder some shareholders have filed a class action suit, arguing that management made false and materially misleading public statements. It failed to disclose, they allege, that problems facing the company last year wouldn't be resolved in the foreseeable future and would hurt 1997's first-quarter earnings. USA Detergents says it will "vigorously defend itself" against the lawsuit. The company posted a first-quarter loss of $4.19 million, or 30 cents a share, vs. expectations of a profit of 9 cents a share.
So why are some investors now buying shares of USA Detergents? Aren't they fazed by the downgrading of the stock by analysts, who have cut earnings estimates for the maker of laundry detergent Xtra and fabric softener Nice 'n Fluffy?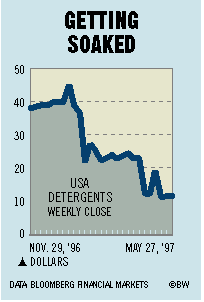 The reason: They suspect that the company is vulnerable to a takeover. "We have been told by industry sources that giant soap and detergent maker Clorox is interested in acquiring the company," says one New York investment manager, who has been buying into USA Detergents.
Clorox, with sales last year of $2.2 billion and a market cap of $6.3 billion, could buy USA Detergents with pocket change, says one analyst--especially after the stock's plunge. The company has an array of brand products that will go a long way, he says, under Clorox' global marketing muscle. Clorox declined to comment.
Before it's here, it's on the Bloomberg Terminal.
LEARN MORE