Are At Ms Still Money In The Bank?
Kingpins NCR and Diebold scramble as rivals mushroom
Peter Galuszka
At the massive Chelyabinsk Metallurgical Works in the Russian Urals, workers marvel as they pick up their ruble salaries at automated teller machines just installed by Moscow's SBS-Agro Bank. In Columbus, Ohio, meanwhile, Banc One Corp. plans to boost its 12-state ATM network over the next three years from 2,000 to 20,000 machines. Hong Kong, however, has the world's biggest concentration of ATMs and what may be the single busiest: A machine at the Lam Tin subway station in eastern Kowloon handles 500 transactions daily, nearly double that of the typical U.S. ATM.
Twenty years after its introduction, the ATM has become ubiquitous--only TV sets and computers boast more screens. Sales are booming: Last year, ATMs grew 41% in a market now estimated at $25 billion in software, telecoms, and ATMs themselves.
Riding the crest of this swelling global wave are two venerable companies in Ohio: Diebold Inc. and NCR Corp. NCR is the No.1 ATM maker in the world, followed by Diebold, which is first in the U.S., with NCR not far behind. Diebold concentrates on low-end machines, while NCR focuses on more sophisticated ATMs. The nearest competitor of any size, Japan's Fujitsu ICI Ltd., sells only half as many machines as NCR--31,000 in 1996--and about 60% of what Diebold does.
UPSTARTS. Yet as ATM use expands, the two leaders are having a tougher time hanging on to their leads. New, smaller ATMs invented by upstarts are eating into the market's lower end with cheap, simple cash dispensers. Diebold and NCR also must anticipate new generations of ATMs that may further revolutionize banking. One new ATM that can recharge electronic debit cards, for example, is so small it can fit into a shirt pocket.
Not only must NCR and Diebold watch out for new competition, they also must continue to duke it out one on one. "Not long ago," says Andrew M. Orent, NCR vice-president for self service in the U.S., "we were giving a daylong presentation at a large New Jersey bank that wanted to buy ATMs. When we walked out, there was Diebold sitting and waiting to go in. We smiled. They smiled. We're like Coke and Pepsi."
The fiercest battlegrounds, however, are in less developed parts of the world, especially China, Russia, and Latin America, where demand for ATMs is intense. That's largely because these regions are woefully short of banks, and most ordinary transactions are handled in cash.
HOMESPUN. Take India, population 950 million. Some 250 million Indians have incomes easily high enough to use ATMs. Yet there are only about 1,300 machines in the entire country, says Per-Olof Loof, NCR senior vice-president for financial systems in London. So far, Diebold has dominated India and has a joint venture to make ATMs with Diebold HMA Private in Madras to avoid duties and import taxes. NCR has been at a disadvantage because most of its machines are made in Scotland and Canada. Sill, NCR has come on strong in India. Since entering the market last year, it has stolen Hongkong Bank from Diebold and cut Diebold's monopoly to a 60% market share. NCR expects to make ATMs in India soon.
Despite their global clout, the two players have homespun, Midwestern backgrounds. Diebold, based in Canton, for years specialized in bank vaults. Its board chairman once was The Untouchables' crimebuster Eliot Ness. Thanks mostly to ATMs, Diebold has seen its revenue rocket to more than $1 billion last year while its net income rose 27% to $97.4 million. Chief Executive Officer Robert E. Mahoney expects revenue to grow 12% to 15% in each of the next three years. Dayton-based NCR is struggling to get back on its feet after a disastrous five-year ownership by AT&T. Chairman Lars Nyberg is pushing ATMs as a way to sustain a financial turnaround. First-quarter 1997 losses were only $16 million, compared with $65 million for first-quarter 1996.
The two kingpins are now encountering growing threats to their hegemony. The most important U.S. challenger is Triton Systems Corp., a small Long Beach (Miss.) company. Using cheaper phone service and machinery, it began production in 1992--a time when, says Executive Vice-President Frank J. Wilem Jr., "the pundits thought that the market was just too saturated." Triton has trimmed 5% off Diebold's market share.
NONBANK. NCR and Diebold also face a small but growing band of nonbank ATMs, mainly cheaper, smaller machines owned by groups of private investors who make profits from surcharges on ATM transactions. "The banks don't know how to react to us yet," says Frank A. Capan, president of Access Cash in St. Paul, Minn. Indignant consumer groups and regulators, however, are pushing for bans on these fees, which are sometimes as high as $2.50.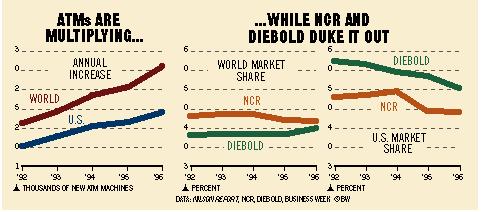 Although Diebold and NCR are building fancier machines, they will be seriously hurt if they give away the lower end of the market. And technological advances are taking the ATM concept into new areas. Some machines, for example, can take applications for unsecured loans and mortgages.
Technology is opening up other opportunities, too. A Perth (Australia) firm named Intellect Electronic Inc. is marketing a pocket-size household ATM that costs about $100 and can put credits on electronic cash cards that later can be used to get cash or pay bills.
While Diebold and NCR are still on top, they'll only keep their leads provided they watch out for new competitors and technologies--and, of course, each other.