Agouron: Besting Aids And The Drug Giants
Its protease inhibitor gets high marks from patients
Larry Armstrong
Five years ago, Michelle Lopez was using drugs and living in a homeless shelter with her daughter, Raven. But when Raven was diagnosed as HIV-positive, the Trinidad-born Lopez went cold turkey off drugs. Eventually, she found an apartment, got a job educating women and children about AIDS, and retrieved her older son, Rondell, from her parents' care.
Last fall, Lopez enrolled Raven in a clinical trial designed to test the first protease inhibitor formulated for children infected with HIV. Now six, Raven is symptom-free and has put on 11 pounds since she started treatment. More important, HIV has been undetectable in her blood since February. Encouraged, Lopez went on an adult version of the drug herself earlier this year. "The quality of life has improved tremendously for both of us," she says.
The drug is called Viracept, and it's the first product from tiny Agouron Pharmaceuticals Inc., a 13-year-old biotech company in La Jolla, Calif. Approved by the Food & Drug Administration in March, it's the fourth and latest so-called pro-tease inhibitor. These drugs are the centerpiece of the triple combination therapy that for the past year has so dramatically improved the outlook for many AIDS patients. It may seem that Viracept has no chance against the first three protease inhibitors from pharmaceutical powerhouses Merck, Abbot Laboratories, and Roche. But Agouron is quickly gaining market share with its claims that Viracept is just as good as Merck & Co.'s Crixivan, the market leader, in ridding the body of the HIV. Plus, says Agouron, Viracept has fewer side effects and is easier to take.
SPLASHY START. So far, the HIV community agrees. In April, its first full month on the market, Viracept captured 11% of the market, as measured by total prescriptions written by U.S. physicians for protease inhibitors, and accounted for 23% of new prescriptions. That bested Wall Street's projections by more than 75%, says Douglas C. Lind, a biotech analyst for Morgan Stanley & Co. For the fiscal year ending June, 1998, Lind thinks Agouron will post earnings of $20 million, on $315 million in revenues--$250 million in Viracept sales alone. That's compared to an estimated loss of $43 million on $109 million in revenues this year. This expectation has moved the stock price from around 40 a year ago to 74 1/2.
In coming to market against such odds, Agouron had to be confident that its drug would stand out from its competitors. A key difference is that Viracept is taken with meals, like most of the companion drugs that an AIDS patient takes. Merck's Crixivan must be taken on an empty stomach, which means users have to take medication five times a day, rather than three. It's a convenience issue, but many physicians believe that inconvenience leads to noncompliance. And skipped doses make it easier for the virus to mutate and create a strain that's resistant to the drug.
Agouron also knew that AIDS is not a traditional pharmaceutical market where legions of salespeople target doctors' offices. "Only 3,800 physicians account for 80% of the prescriptions, so we knew we could afford a sales force the size of the big guys,"' says Peter Johnson, Agouron's co-founder and CEO. His company has 115 employees in field sales, about the same as Merck uses to sell its HIV products.
It also helps that the market for protease inhibitors--still predominantly gay men--is very sophisticated. "They are young, they ask questions, and they have got a life sentence," says Lind. And the drug has been getting good reviews from the HIV community. "If it gets that, it doesn't matter how much gloss Merck puts on a marketing campaign, Agouron can cut through it."
The company may have another card up its sleeve. Virus samples taken from five patients who developed resistance to Viracept remained sensitive to other protease inhibitors. That's seemingly not the case with the other protease inhibitors. "It may be best to start treatment with Viracept because it may preserve other options down the road." says Dr. W. David Hardy, an AIDS researcher at the University of California, Los Angeles.
Viracept is the first commercial product of Agou-ron's pioneering efforts in so-called rational drug design--determining the three-dimensional structure of target proteins and then designing drugs to interact with that structure. The company got Viracept to market in record time: 36 months from the time it first synthesized the drug to the time it applied for accelerated approval by the FDA. More than half the $100 million-plus Agouron spent to develop it came from Japan Tobacco Inc., a cigarette maker that lately has invested heavily in biotech research. The company signed on in late 1994, to co-develop the drug in exchange for half the profits. The two have licensed Roche Holdings Ltd. to market Viracept in Europe in an unusual deal: They will get royalties in Europe on the sale of both Viracept and Roche's own protease inhibitor, Invirase.
The deal with Roche makes sense because Invirase hasn't proven as effective as the other protease inhibitors--and has just 23% of the market. But tests indicate that if the drug is taken with Viracept its effectiveness increases. The deal also ensures that Roche doesn't promote Invirase over Viracept.
HOME RUN. Agouron is aiming to be more than a one-drug wonder. It has a $78 million deal to develop cancer drugs with Roche. And Agouron is starting clinical trials on another protease inhibitor--for the rhinovirus family, the viruses that cause the common cold.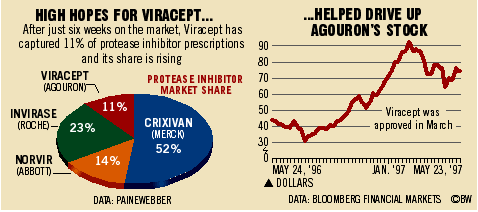 To fund those drugs, however, Agouron needs Viracept to be a home run. The company's aim is to rival Crixivan, which commands half of the $1 billion protease inhibitor market. Word of mouth from boosters like Jim Gutschick will certainly help. "Two years ago, I was pretty much just waiting to die," he says. In failing health, the 42-year-old San Franciscan had sold off his interest in the $14 million company he founded. But after 18 months on Viracept and two other drugs, Gutschick was healthy enough to finish a 275-mile Orlando-to-Miami bikeathon. "Things have turned around," he says. "I'm working myself back to health and fitness and getting ready to go back into the workforce." Further evidence like this of Viracept's effects could give Merck a real run for its money.
Before it's here, it's on the Bloomberg Terminal.
LEARN MORE