A Hunger For Opta Food?
by
Little-known Opta Food Ingredients (OPTS) is getting to be quite visible to major packaged-food companies and even McDonald's. A maker of food ingredients that cut fat and enhance taste and nutritional content, Opta has a "huge potential in its niche markets," says one New York money manager who has been buying shares.
True, the company has been in the red in the past four years, and sales are just nearing $10 million--up from $4.8 million in 1994. But it's in the throes of breaking even this year--if not jumping into the black, says the hedge fund manager. He notes that French giant conglomerate, Compagnie Financire de Paribas, has taken a 12.7% stake in Opta.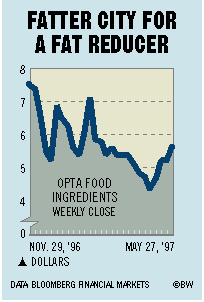 Paribas first purchased 531,900 shares in October at 71/8 a share on the open market. In December, it bought 854,771 shares from Pfizer at 81/2.
"That reassures me that when Opta gets over the hump and starts making money, it will produce explosive earnings," says the pro. And if it fails to make it on its own, "I expect it will be bought out--if not by Paribas, then by one of the food companies," he adds.
He thinks the stock, now trading at 53/8 a share, is "an easy double in a year's time--with or without a buyout." The downside risk, the manager adds, is minimal, since the company has net cash of $3.50 a share and $2 a share in tax-loss carryforwards.
Before it's here, it's on the Bloomberg Terminal.
LEARN MORE