A Hot Economy May Cool Startups
`Be your own boss" sounds like the dream of every corporate drone, but new evidence suggests the mind-set may be inversely tied to the health of the economy. Outplacement firm Challenger, Gray & Christmas Inc. annually tracks about 3,000 downsized managers. Since the recession's end, interest in startups has tumbled. In the first quarter of '97, downsized workers opting for self-employment fell to 5% as unemployment sunk to a 20-year low.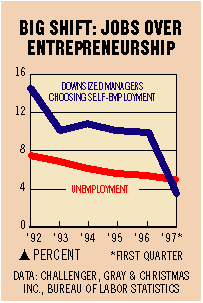 Before it's here, it's on the Bloomberg Terminal.
LEARN MORE