Will A Fight With Pilots Throw Us Airways Into Reverse?
Without a labor contract, shrinking may be the only option
Christina Del Valle
US Airways should be sitting pretty. The Arlington (Va.)-based carrier has been profitable for two consecutive years after losing more than $2 billion from 1992 to 1994. And in the past year, it has ranked among the top three U.S. airlines for on-time performance and baggage handling.
But the carrier's future is clouded. Company officials and labor unions are locked in a battle that has stymied contract negotiations for more than two years. And, just when the company needs all its energies to fend off incursions by rivals such as Southwest and Delta into its East Coast territory, the protracted labor battle threatens to paralyze the nation's sixth-largest airline, say analysts and company officials.
So CEO Stephen M. Wolf has started talking the tough talk that he used when he was running United Airlines Inc. At US Airways' annual meeting in Philadelphia on May 21, he told shareholders that high labor costs are forcing him to look seriously at downsizing and making US Airways a regional airline. "If we cling stubbornly to the past, our collective dream of becoming a global carrier will come to naught," he said. Indeed, that same day the last vestige of an aborted alliance with British Air disappeared when BA sold its last US Airways shares, causing US Airways stock to plunge to below 35.
Wolf has said that with a better labor deal, the company could move forward with a $300 million expansion of its Philadelphia hub, and seek financing to purchase $14 billion in new jets for domestic travel and $1.5 billion in wide-body craft for international routes. But without a union deal, Wolf insists his hands are tied--and shrinking is the only option. Analysts agree. "It's a route he's being forced down," says Timothy Ross, an analyst at SBC Warburg Inc.
In a move sure to rile the pilots further, Wolf told shareholders on the 21st that he's shopping for regional jets. Pilots make less flying such planes. The pilots agree that the airline must have a leaner operation to compete. But they say they will not accept a deal that lets Wolf convert any more than 20% of the airline into a no-frills, short-hop carrier--and they will only agree to that if the company promises to expand its international routes. Wolf is angling for taking 40% of the fleet downmarket.
DOOMED. The situation is coming to a boil. A no-furlough clause in the pilots' contract doesn't expire until June. But Wolf isn't waiting. On May 8, he announced a plan to cut unprofitable routes and ground older aircraft, which would mean 103 pilots would be laid off after June 30. The cuts enraged employees and the pilots' union immediately filed a grievance. "This is a clear threat to play ball or get downsized out of existence," says one pilot. Wolf calls that "an unfair characterization."
If the pilots refuse to budge on the two-year-old contract negotiations, Wolf's lingering hopes for expansion are doomed. US Airways now says it will cancel all existing jet orders and shrink the airline if it doesn't reach new labor agreements by Sept. 30. Already, the carrier has lost options to purchase 57 planes from Airbus Industrie because the deal was conditioned on reaching a new pact with the pilots. Now, a multi-year order for 343 additional Airbus planes, totaling $14 billion, is also in jeopardy.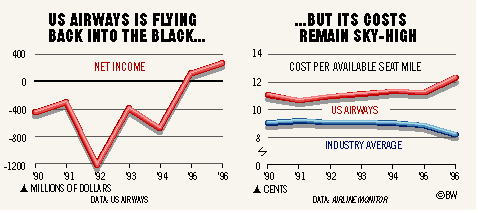 Meanwhile, as talks drag on, rivals are encroaching. Southwest and Delta Express have begun service to Providence--a US Airways stronghold--and have expanded their presence in other US Airways territories such as Florida and Baltimore Washington Airport.
The carrier's problems have sparked speculation that Wolf's end-game is a sale. With its $8.1 billion in revenues and its extensive East Coast network, US Airways would be an attractive partner for a major carrier. But privately airline execs worry that trustbusters would block any deal. For now, Wolf appears to be stuck with trying to quell the restive unions--while he tries to steer his new course.