U.S.: The Fed's Decision: Was It Economics Or Politics?
Maybe a little of both, but you still can't rule out another rate hike
By
Based solely on economics, trying to guess what Federal Reserve policymakers would do at their May 20 meeting was one of the toughest calls in recent memory. Fed watchers were sharply divided, and none held their views with any great conviction. On political grounds, however, the choice to leave interest rates unchanged was a clear winner.
The Fed already had taken heat from political, business, and labor interests following its preemptive rate increase on Mar. 25. The same groups were gearing up for more attacks if the Fed hiked rates again for no obvious reason. Some 60 senators and representatives sent Chairman Alan Greenspan & Co. an appeal on May 16, urging them to hold their fire. Also, a hike would have looked like a slap in the face to Congress and the White House after they had cut a deal to balance the budget, something Greenspan repeatedly has called for.
In the end, economics probably ruled the day--that and Greenspan's forecast that growth will slow to a Fed-tolerable pace. The very fact that the recent data did not make an urgent case for even a preemptive rate hike right now was undoubtedly the best argument for waiting a while longer. The Fed will give itself time to look at future data to see if they confirm or deny the latest signs that the economy is slowing on its own from its overly rambunctious pace.
BUT THE ISSUE of the economy's underlying strength--and its inflation potential--is far from settled, and the Fed most likely kept policy officially biased toward tightening. On the surface, the data support the slowdown view, but growth fundamentals still look solid, especially in the job markets, suggesting that any slowing may be short-lived (chart). If so, the Fed will be back to take out some more inflation insurance at its July 1-2 meeting.
That anticipation was a key reason why the bond market's reaction to the Fed's inaction was tepid, although stocks rallied strongly. Also, the no-hike decision pushed the dollar still lower, another depressant on bonds. The trade-weighted value of the greenback has declined by 4% since early May, and further weakening would slowly erode an important anti-inflationary force that has been in place for a year.
The recent batch of economic reports highlights the uncertainties about the slowdown forecast: Industrial production and operating rates fell in April, but those declines reflected auto-industry strikes. Builders appeared less upbeat about the housing market in early May, but April housing starts rose. And despite slower April job growth, initial unemployment claims in early May fell, retracing nearly all of their recent rise.
And most recently, surging exports shrank the March trade gap to a much lower-than-expected $8.5 billion, down from $10.5 billion in February and $12.3 billion in January. Exports of goods and services jumped 4.1% after a 4% gain in February, the strongest two-month rise in three years (chart). Aircraft shipments to China led the March increase, along with industrial equipment and consumer goods. Strong imports will limit this year's improvement in the deficit, though. They rose 1.2% in March, reflecting sturdy U.S. demand.
Still, the trade outlook is improving as the economies of Europe and Japan gather steam and as the dollar's new softness enhances competitiveness. In addition to the strong dollar, last year's deterioration in the trade deficit was another anti-inflation ally of the Fed, as reduced foreign demand offset some of the steam in the domestic economy. But as the latest trade data suggest, that counterbalance may be waning.
GREENSPAN'S EXPECTED SLOWDOWN depends most crucially on domestic demand, especially consumers. However, right now that's the area in the outlook with the most uncertainty. Sure, retail sales softened in April, but consumer fundamentals are as strong now as they were during the winter spending spree.
Indeed, the drop in jobless claims strongly suggests that the rise in filings was exaggerated by auto strikes and Midwest flooding, and that labor market conditions and income prospects are as upbeat as ever. Also, the Johnson Redbook Service's retail survey shows that buying through mid-May has picked up, and early reports on May car sales look stronger. In addition, the University of Michigan's preliminary May index of consumer sentiment hit a record high of 104.6.
Moreover, Wall Street has more than recovered its earlier large losses. While the size of any wealth effect is debatable, the earlier runup in stock values clearly coincided with surprisingly strong spending. Now that stocks have rebounded, the possibility of further influence on buying and borrowing cannot be dismissed.
After the past year's strength, housing does not appear to have much left to add to overall growth. Still, with mortgage rates back down a bit, mortgage applications to buy a home have ticked up in recent weeks. In fact, the 2.6% increase in April housing starts means that building began the quarter at a higher level than the first-quarter average. However, multifamily projects led the April gain. Single-family starts, 75% of the total, increased only a scant 0.3%.
IN ADDITION TO CONSUMERS, the Fed also will be watching the industrial sector for signs that producers' ability to satisfy demand is putting strains on industrial capacity. That didn't appear to be a problem in April. Industrial production was unchanged from March, and the rate of capacity use fell.
However, April output was held back by strikes at General Motors Corp. and Chrysler Corp. Excluding motor vehicles and parts, manufacturing output rose 0.2%, and it is on track this quarter to grow at a 5% annual rate, similar to the pace of the two previous quarters. The April drop in auto production will be reversed in May, as well as the decline in overall output and operating rates. Also, the strikes have increased Detroit's need to boost inventories.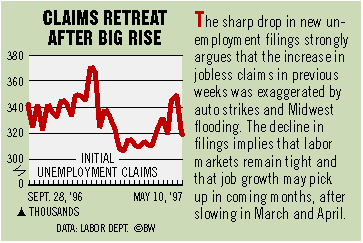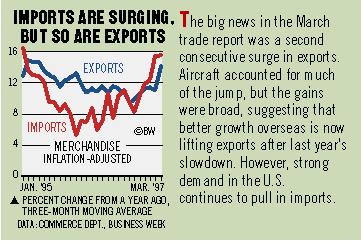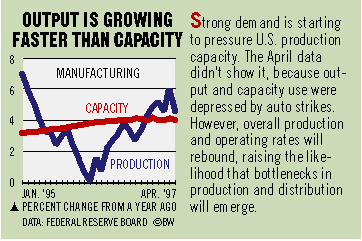 Prior to the April data, pressure on production capacity had been growing. The factory operating rate hit 82.8% in March, a 1 1/2-year high, before dipping to 82.4% in April. Even given the drop, the annual trend in output growth continues to outpace the growth in available capacity (chart). That pattern cannot continue without creating pressures on supply, such as bottlenecks in production and distribution, that have preceded price increases.
To be sure, the wholesale and retail price indexes remain as tame as ever. But the Fed is thinking more about inflation in 1998. It knows that to be assured that prices remain contained next year, the economy will have to slow this year. If that slowdown is not any clearer in coming weeks, the possibility of another preemptive rate hike will be back on the table in July, regardless of any political consequences.
Before it's here, it's on the Bloomberg Terminal.
LEARN MORE