Three Designs For Living
by
Clear Classics Intellivent food-storage system
Icy Rider sled
Little Green portable cleaner
Designers: Rubbermaid Inc., Bissel Inc.
Call it Wal-Mart design. One of the basic truths of design in the U.S., and increasingly, in Europe and Asia, is the need to design products for distributors, not just customers. Distributors have their needs and requirements that often differ from a product's ultimate end-user. And they have clout.
America's Wal-Mart Stores Inc. is the biggest distributor anywhere. It is the largest single customer of product in the world, and it has its own special design parameters. Wal-Mart makes its profit on traffic and wants as many products as possible to say "buy me" as people pass by. Of course, there are many sections in a store, selling many kinds of products, including some that carry high prices. But since space is at a premium, Wal-Mart loves products designed to fit 14-by-14-inch shelves. And it especially likes products that cost less than $20.
Rubbermaid Inc.'s Clear Classics Intellivent System of food-storage containers is pure Wal-Mart design. The winner comes in four sizes, from one pint to 3.5 quarts, that fit easily onto shelves. The price is right, from $4.99 to $8.99. These products hit another Wal-Mart design button: They look good. In addition, they have an innovative steam vent that allows food to travel from the freezer to the microwave to the table without removing the lid. (Ergo, no splattering in the microwave.)
Of course, not all products sold in Wal-Mart can fit into 14-by-14 shelving. But if designers create them to stack and save space, they have a shot at selling to Wal-Mart. Rubbermaid's Icy Rider sled fits that bill.
After field research, a competitive product analysis, and consumer focus groups, Rubbermaid discovered that parents ride down the hill with their children, and kids slide down with friends, but people rarely use sleds alone. So Rubbermaid designed one to meet these needs. Its design features a seat big enough for two, molded handles, and steering. Lastly, after researching Wal-Mart's needs, Rubbermaid made the Icy Rider thin and stackable.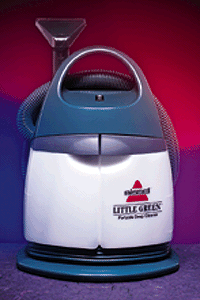 Bissell Inc.'s Little Green portable vacuum cleaner is designed to communicate to the shopper walking the aisles that it's easy to carry and use. It's for people who want a lightweight (9.9 pounds) liquid cleaner
for carpets, cars, and furniture. It sells for $79 to $99.
Rubbermaid's food-storage containers and sled and Bissell's vacuum were all designed with distributor and customer in mind. Size, price, looks, and features were equally important. These bronze winners show that designing for the masses is every bit as complex as designing for the elite. And perhaps, just as rewarding.
Before it's here, it's on the Bloomberg Terminal.
LEARN MORE