Take Me Out To The Soccer Game
Douglas Harbrecht
It hit me like a vision on a dank, chilly afternoon a few Sundays ago. I was standing in the rain, soaked to the bone. My feet ached with cold. My vocal chords were shot. But I was happy, yelling at a bunch of 12-year-old boys to "mark up" and "go to space." Everywhere, soccer games were going on. Parents were screaming. And it hit me: I am a soccer dad.
It wasn't supposed to be this way. Growing up on Long Island, I worshiped the New York Yankees, wearing a rut in the grass of our yard as I relentlessly copied pitcher Whitey Ford's semi-sidearm delivery and Hector Lopez' crouched batting stance. Alas, my son, Drew, couldn't care less about baseball. He's wearing a hole in the den carpet practicing his Cruyff move (a fake kick, pullback maneuver). He follows D.C. United, our local Major League Soccer team.
TRANSFORMATION. Three days a week, he and his teammates on the Great Falls Skyhawks train with professional coaches from Ireland and England, who are paid for their services. And every Sunday in the spring and fall, a lump of anxiety and excitement forms in my throat knowing that this day will be consumed with soccer.
Pretty pathetic, huh? But I'm not alone. Go to any suburb in America today, and you'll see an amazing cultural transformation: Soccer is eclipsing baseball--big-time. In Great Falls, Va., where we live, youth participation in organized soccer is now three times that of Little League. In nearby Maryland, the number of kids playing soccer has nearly doubled in five years, from 22,000 to 40,000, according to the Maryland State Youth Soccer Assn. Nationally, there are four kids playing the global sport for every one engaging in the national pastime--40% of them girls from age 7 to 19. "The sport is exploding," says Tom Stone, a former Duke University star and pro player who's now director of coaching for the Lakewood Fury, a suburban Denver soccer club. The club has plans to build a multi-million-dollar sports complex in Lakewood where tournament teams from all over the country will be able to play. "It's a big business now," he says.
Just ask Terry Foley. A former midfielder for Fulham and Southend United in England, he came to the U.S. in 1990 with hopes of teaching the sport. Two years ago, he started World Class Soccer, a Fairfax (Va.) soccer training academy, on a shoestring. This year, he expects revenues to reach nearly $300,000. Foley brings in European players and coaches to suburban Washington for coaching sessions during the season. Over the next two years, he hopes to boost his earnings by 50% by developing U.S. youth tours to soccer hotspots in Europe. "Northern Virginia has become a hotbed for soccer. Standards are going up, and clubs are looking for professional training," says the congenial 34-year-old Brit.
With interest running high, corporate sponsors are rushing in. Reebok International Ltd. provides $1,000 clothing allowances and prize incentives to help Foley pay his coaches. TSI, a Durham (N.C.) soccer mail-order business that reaches 7 million people globally, supplies soccer balls, nets, T-shirts, and shoes for training sessions. And Mars Inc. provides Snickers candy bars as prizes during soccer tournaments and at summer camps.
In North Texas, megasponsors such as American Airlines, Fila, and R.R. Donnelley & Sons are helping foot the bill for the Dallas Cup, sort of a World Series of youth soccer that has now become the top international tournament in the U.S. It attracts teams from 30 states and 25 other countries. Companies don't have to be huge to see a benefit. Sam Shin, owner of Sam's Sunoco in our area, has no player on our team. Yet he has given close to $1,000 so that our Skyhawks could buy uniforms and go to a tournament in Roanoke, Va. "I want to give something back to the community," he says. "Programs for soccer are good for young people."
The programs can be costly. My wife and I are shelling out close to $1,000 a year on Drew's soccer--money that might be more wisely invested in, say, a college savings fund. What with uniforms, training, coaching, and tournaments, maintaining a travel team is a small business in itself. Our team has a treasurer, a parent administrator, a publicist, a fund-raiser, and a parent coach (yours truly), in addition to a paid professional coach and trainer, who will earn close to $5,000 combined this season. We also have a "sheriff" parent on the sidelines to enforce soccer etiquette. It's not just Liverpool where soccer fans get rowdy. While our team has never had any problems, the game can bring out an ugly aggressiveness in grownups, especially when they're standing next to parents of an opposing team member.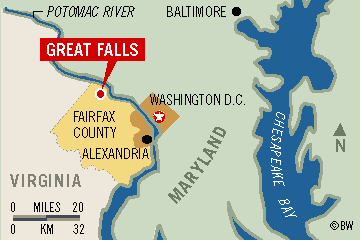 And don't think it hasn't crossed my mind: What's the point here? While we parents have visions of our kids going to college on full soccer scholarships--and some may--the truth is that most of our little darlings will simply grow up with a love for the game. It's that passion that you see at parks all over northern Virginia, where Latino teams in their svelte 30s and paunchy 40s crash the fields on weekends--until we newcomer suburbanites show up with our field permits and kick them off.
In the last Presidential election, pundits waxed eloquent about how the future of the free world rested in the hands of a group of suburban, minivan-driving "soccer moms" and "soccer dads" yelling at their kids on sidelines all across America. The reality is much richer. Once again, Americans are assimilating another way of life, and making it their own--for better and for worse. Sorry, New York Yankees. Mark up, guys. Soccer is your game now.