Stride Rite's Best Foot Forward
by
Now and then, Stride Rite (SRR) pops up on takeover investors' screens--in part because the company has been struggling and is believed ripe for a buyout. This time around, speculation has surfaced about a forthcoming bid from an apparel maker that wants to expand its shoe operations.
"The rumors started to swirl in February, and the stock started moving up--from 10 to 12 a share," notes one California investment manager. Momentum players, he says, jumped fast, pushing it above 15 by early April. When no deal emerged, these speculators fled, and the price settled to 13. "That's when we started buying shares," says the pro, who adds that the apparel maker is considering a bid in the mid-20s.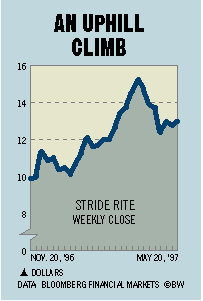 Stride Rite, whose footwear is sold sporting such brand names as Keds, Sperry Topsiders, and Tommy Hilfiger, has been striking up alliances. Recently, Stride Rite signed a pact with Levi Strauss to produce a line of footwear for the world's largest branded apparel maker. It also signed a deal with London Fog Industries for London Fog to produce outerwear for the Sperry Topsiders unit.
Analyst Stephen Velgot of Monness, Crespi, Hardt, who is high on Stride Rite on purely fundamental grounds, believes it's on the way to a turnaround. He upped his 1997 earnings estimate from 25 cents a share to 28 cents in the year ending Nov. 30, and from 50 cents to 55 cents in 1998, up from 1996's 5 cents. Stride Rite declined comment.
Before it's here, it's on the Bloomberg Terminal.
LEARN MORE