Spain: Rate Cuts Now...Jobs Soon
After a year in power, Prime Minister Jose Mara Aznar must feel pleased. His conservative government, after 14 years of Socialist rule, has taken inflation and interest rates to record lows and cut the government deficit. Spain now stands on the threshold of first-round entry into a single-currency Europe, and money is pouring into its financial markets. But while investors rejoice, the pain of fiscal belt-tightening has left unemployment at more than 20%, and there are few signs that the government has garnered any new swell of popular support.
Clearly, economic prospects are improving, and the recovery now appears self-sustaining. Job growth in 1997 is accelerating, with registered unemployment below the 1992 prerecession low. Growth in 1996 was export-led, but domestic demand is picking up. First-quarter household spending was strong, construction is on the mend, and business investment continues to advance. First-quarter economic growth rose to 2.7%, and the government's 3% growth target for 1997 appears attainable.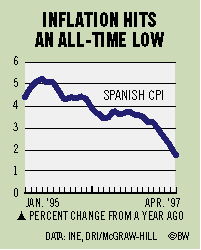 Rate cuts are spurring the domestic economy. The Bank of Spain trimmed a quarter point off its short-term rate on May 16--the 12th cut in 17 months--reducing rates by a total of 4 points, to 5 1/4%, an all-time low. The recent cuts are not yet reflected in domestic demand. Also, the 5% drop in the trade-weighted peseta, plus improving growth abroad, will continue to lift exports. The bank's move followed news that April inflation fell to a record-low 1.7%, reflecting past deregulation and a moderation in service prices due to more modest wage deals.
The May 16 labor-market reforms address a key problem: Nearly all new 1996 contracts were for temporary jobs, a trend that has hurt confidence and the recovery. The program offers companies cheaper severance costs for permanent hires and tax credits for moving temps to permanent jobs. The move will help the youth and the long-term unemployed, and it may even bolster support for Aznar's government.