Samsung's $8 Billion Gamble On Upscale Chips
It leads the world in commodity DRAMS, but can it become a player in logic chips?
Steven V. Brull
Lee Kun Hee, the reclusive billionaire running one of South Korea's biggest conglomerates, made a rare public appearance in Seoul on May 9. Escorted by a bevy of women in traditional hanbok dresses, the 56-year old chairman of the $84 billion Samsung group ambled into a Seoul hotel to announce that his Samsung Electronics Co. would sponsor the 1998 Olympic games. It was a proud moment for Lee, who has long sought an Olympic sponsorship as a sign that Samsung belongs to the world's corporate elite.
But Samsung faces a mighty struggle if it's going to remain inside the winner's circle. Last year, Samsung Electronics (SEC), the group's most important division, recorded a 93% drop in profits, to $184 million on sales of $18 billion. That was a far cry from SEC'S $2.8 billion in profits in 1995. For SEC, which has long symbolized South Korea's hopes in high tech, strength has become weakness. It leads the global market for memory chips, the commodity semiconductors that provide memory for personal computers. Yet prices last year for 16-megabit dynamic random access memories (DRAMS), dropped 80%. Analysts expect DRAM prices to come back and SEC'S profits to jump once more. Yet SEC has to counterbalance these wild swings with new products or remain dependent on the vagaries of a commodity market.
THE NEXT TREND. So the press-shy Lee has devised a strategy as bold as the move his father made when he founded SEC in 1969. In a March meeting with top officers, he outlined the plan: maintain Samsung's top spot in memory chips, while pushing the company into microprocessors, application-specific chips, and other nonmemory chips. These logic chips provide the brains for everything from pcs and digital telecom switches to dishwashers and car-navigation units. The cost of this bold foray: about $8 billion over five years. Samsung hopes that as a result, its sales of logic chips will rise from $1.4 billion this year to $15 billion in 2005, more than half of expected chip sales.
Despite the huge expense, the strategy has its appeal. Logic chips often command higher prices than memories. Samsung can use them in its own consumer-electronics line and fast-growing telecom business and sell them to outside customers as well. That way, Samsung won't have to pay big licensing fees for logic-chip technology to rivals such as the Japanese. Samsung would also be better positioned for the next industry trend, embedding memory onto a nonmemory chip, a technique that can DRAMatically increase a chip's speed. These hybrid chips have strong potential in such new products as digital video disks (DVDS).
But moving up the food chain poses big hazards, too. Fabricating logic chips is radically more complex than making DRAMS and usually requires a nimble approach to design and marketing. SEC'S chip-manufacturing skills are first-rate, but the challenge will be to reform a rigid, hierarchical organization better suited to producing commodities than logic chips. "Korea has militaristic corporations that must change," says Kim Linsu, head of the government-affiliated Science & Technology Policy Institute.
But Samsung is undaunted. The engineers of SEC worked around the clock for six months back in 1983 when the elder Lee mandated a move into the memory-chip business. The result was Samsung's first DRAM product. Now, Samsung wants similar superhuman efforts from its top officers and engineers. Last January, Samsung put Chin Dae Je, 45, in charge of a new nonmemory division with separate research and development and sales functions. A Stanford University-educated PhD, he led Samsung's development of the 64-megabit DRAM, which will be a major product later this year.
Chin was deeply involved in Samsung's effort to license and manufacture the Alpha microprocessor designed by Digital Equipment Corp., which runs twice as fast as Intel's Pentium II. Even though making the Alpha has little in common with making a memory chip, in a feat of engineering, Samsung devised the needed manufacturing technology in just three months last summer. "There's little doubt they can make any chip they want to and do so cheaply," says Peter Rawle, senior analyst at Schroders in Tokyo.
FEW TAKERS. Unfortunately, since dec has persuaded few pc makers to embrace the Alpha, the superfast chip has limited potential. Chin, however, says the experience taught SEC an enormous amount. "Making [microprocessors] will change the way we work," he says. Chin figures knowledge acquired making the Alpha will help in other nonmemory projects involving telecom gear, multimedia products, and fuel-injection systems.
A key problem is attracting first-class engineers adept at designing nonmemories. Chin must hire 200 engineers a year, and he is looking to the U.S. for a solution. Samsung acquired 80 engineers earlier this month when it paid an undisclosed sum for the hardware division of 3DO Co., a Silicon Valley company known for the high-speed graphics of its game player. They'll join 20 Samsung engineers in a new, U.S.-based company owned by Samsung, Advanced Graphics Technology. Its initial task: develop a processor for dvd players. To prevent talent from leaving, Chin has promised to take Advanced Graphics public in the U.S. within three years--something no Korean company has accomplished. "Nobody believes it, but I want to give them a chance to become millionaires," Chin said.
But Samsung faces tough competition from more lithe competitors such as LSI Logic Corp. in Milpitas, Calif., and Windbond Electronics Corp. in Taiwan. These rivals think DRAM makers who want a position in logic chips underestimate the need for close cooperation with their new customers. "They're like wholesalers who want to go into retail without opening any stores," says LSI Logic chief Wilfred J. Corrigan.
A larger concern is Samsung's ability to plow billions into logic chips while keeping its position in DRAMS. When the price cycle in memories swings upward, chipmakers rush to profit from the surge in demand. "DRAM makers have been like drug addicts saying they're going to quit," said Rawle. "As soon as the market booms, they build more plants. They're addicted to the enormously high incremental profits." Trouble is, the going price of a new DRAM fabrication plant is more than $1 billion and rising. So staying in the memory business while branching out amounts to an enormous strain on a company's resources.
FINAL ODDITY. If competing in memories weren't costly enough, SEC is burdened by its money-losing computer arm, ast Research Inc. The Irvine (Calif.) company lost $110 million on revenues of $347 million in the first fiscal quarter ended Mar. 29. That's only a slight improvement from a loss of $116 million in the corresponding quarter of a year before.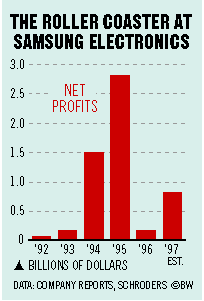 The final oddity: Samsung is committing itself to huge outlays just when another part of the conglomerate is spending $13 billion to enter the crowded automobile market. "If you want to be first-class, you have to invest a lot of resources," says Bae Soon Hoon, chairman and chief executive of Daewoo Electronics Co. "I'm puzzled about their future [in electronics]."
Samsung executives, of course, feel that no company becomes great without taking big risks. They may well be right. But for now, the rewards for all these risks lie a considerable distance in the future.
Before it's here, it's on the Bloomberg Terminal.
LEARN MORE