Philip's Velo 1: The Whole World In Your Hands
Julie Tilsner
Velo 1
Designer: Lunar Design and Philips Electronics
Making handheld computing devices look cool has never been deemed as important as making them useful. But leave it to Philips Electronics, the Netherlands-based consumer-electronics giant known for integrating appealing forms with function, to demand that its designers do both. The company's rocket-logoed first entry in the handheld computer category, the Velo 1, would do George Jetson proud--and is designed to help Joe Executive get the job done.
The Velo 1 is small enough (about the size of an old-fashioned billfold) and light enough (13 ounces) to fit into a shirt pocket. The machine's soft, textured gray casing, with its curved edges, sets it apart from so many of its boxy, charcoal-colored competitors. And its rocket logo gives its frontispiece a dash of whimsy. But the device's functional features also set it apart from many of its rivals, says Max Yoshimoto of Lunar Design in Palo Alto, Calif., which Philips hired to help define the product and execute its design. Many of those features arose from what Yoshimoto calls "asking what the product would deliver before we ever sketched it on paper."
Market research showed that what mobile professionals really wanted was basic word processing and the ability to check electronic mail and send files and faxes when they are traveling on the road. So Lunar Design set to work. A built-in modem replaces a PC card while still allowing on-the-go Internet surfing, and a subtle pop-out phone jack emerges from an unlikely but handy spot next to the monitor's face. And instead of a trackball or mouse, there is a stylus, which clicks into an indented trough on the inside to keep it from being lost.
Velo 1's keyboard is bigger than you might assume when the product's case is closed, and its array of buttons is comfortably spaced for easier touch typing than users get with many handheld devices. And here's a nifty bonus: For those moments of inspiration on the road, there's a voice recorder on the outside, which is operated by a button above the rocket logo.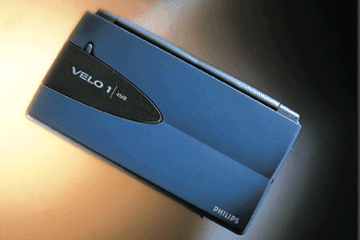 The Velo 1 plugs into a docking station, where it can synchronize files with a desktop machine. And to make sure the computer isn't obsolete before it's out of the box, memory and other functions are upgradeable via two industry-standard miniature card slots. Philips is pricing the Velo 1 at $699 with four megabytes of memory.
Although the Philips name is well known in consumer electronics, it didn't enjoy much brand awareness in the personal-computer arena. So when Philips was tapped as one of seven electronics companies to work with Microsoft Corp. in creating handheld devices that run the Windows CE operating system, the company knew it had to design a product that stood apart from the crowd.
It appears the Dutch outfit has succeeded. The Velo 1 was named Best Hand-Held Product at Comdex 96 by Byte magazine and is an Editor's Choice product at PC magazine.