Korea's Samsung: The Hungriest Tiger
by
"Junior" TV
"Weeble" telephone
NETboard computer
Designer: Samsung Group
Few things are as important to the future economic success of the Asian Tigers as design. No longer the least expensive producers--China is now the low-cost platform--the Tigers are struggling to shift from OEM, or original equipment manufacturers, to purveyors of original brand-name products.
Which is why Korea's smashing success at winning no fewer than four Industrial Design Excellence Awards (IDEA) in the product-concept category is so extraordinary. Samsung Group alone won three awards, reflecting a broad effort to strengthen its product design. Winners came from Samsung's far-flung operations in Seoul, Palo Alto, Calif., and Middlesex, England. The NETboard computer concept, which won a silver medal, targets U.S. students 16 to 25 years old. The NETboard appears rugged, "sportsy," and cool.
The "Weeble" phone idea is a whimsical take on the standard phone. It shakes right to left when the phone rings and demands attention from the listener. The portable "Junior" TV looks like fun, and its wearable remote is simple to use. Both won bronze awards.
LG's Hammer Drill concept is specifically designed by Fitch Inc. as a device to help the Korean company to shift from OEM to brand-name producer. LG already sells electric power tools in 30 countries, but under the labels of other companies. Now, it wants to build its own world image. This bronze winner also went for a young, "rugged" look.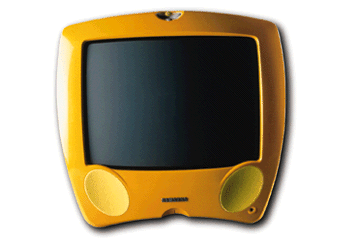 For Asia, the next step will be translating these concepts into actual marketable products. Portland (Ore.)-based ZIBA Design Inc. is helping Taiwan's Acer Inc., the personal-computer manufacturer, make the transition. Last year, Acer won an IDEA for its Aspire PC, designed by ZIBA. ZIBA is now creating an overall product road map for Acer for the next five years.
The Korean breakthrough in design concept reflects the direction its big companies are taking to establish their brands worldwide. Now, it's time to translate speculative ideation into pragmatic practice.
Before it's here, it's on the Bloomberg Terminal.
LEARN MORE