John Deere's Gator: Off Road, On Target
William C. Symonds
Gator
Designer: John Deere and Henry Dreyfuss Associates
The U.S. military is notorious for demanding custom-made, gold-plated equipment. But when soldiers at the Army's elite rapid-reaction forces, based at Fort Bragg, N.C., tested the Gator--an inexpensive off-road utility vehicle for sale down at the local John Deere dealer--they loved it. "It functions flawlessly in evacuating [wounded] soldiers from foxholes," says Colonel Frederick Gerber, commander of the 55th Medical Group (Airborne) at Fort Bragg. "And I can buy eight [Gators] for the price of one Humvee."
The military is just the latest convert to be wowed by the Gator. The vehicle--in four- and six-wheel versions--is already being used by farmers, contractors, and sports teams, including the world champion Green Bay Packers, who haul around equipment and transport injured players to the locker room.
No wonder the judges saw the Gator as "a classic case of strategic product planning," says juror Katherine McCoy of design firm McCoy & McCoy Associates. In designing the Gator, McCoy says, Deere and partner Henry Dreyfuss Associates "identified some real needs that were not being met" by existing products. She calls the result an entirely "new product type," which, like Sony Corp.'s Walkman, has revolutionary potential to create new markets.
The Gator began in 1990, when Deere's design team, with partner Dreyfuss, was asked to develop an off-road utility vehicle that possessed both durability and pizzazz. To harden its durability, the prototype was subjected to 15,000 hours of off-road testing, from the broiling Arizona sands to the muck of Wisconsin marshes. The designers made it easy to operate. And for product personality, they broke with Deere tradition by giving it a name, Gator, rather than a model number, and a logo.
When the first Gators rolled out of Deere's Welland (Ont.) factory in 1993, even Deere dealers such as Richard Miller say they didn't know exactly how to market them. At first, "I sold them mainly as toys for big boys," recalls Miller, whose dealership is near Nashville. But when customers "began to realize how versatile this piece of equipment is," Miller adds, his sales took off. They're up 400% this year.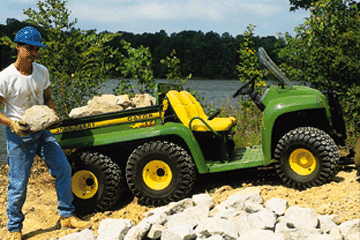 Now, Deere is expanding the Gator line. The new Turf Gator, which drives like a golf car and features high-flotation tires that don't mar delicate golf greens, helped it secure an exclusive contract to supply the PGA Tour's Tournament Players Clubs. The "Med-Bed," a stretcher that can be quickly attached to the vehicle, helped win over the Packers. And the first Gator with a diesel engine opened up the military market. (This is the version that took the 1997 IDEA.) Deere cannibalized parts from existing products and used design-for-assembly to keep prices low, ranging from $5,800 to $9,425. This is design innovation at its best.
Before it's here, it's on the Bloomberg Terminal.
LEARN MORE