Investment Figures Of The Week
COMMENTARY
A wild week with little movement for big stocks. Good inflation news helped the
Dow and the S&P 500 hit new highs on May 15, yet the market fell sharply just
the next day. Stocks rallied after the Fed decided not to raise interest rates,
but sold
off May 21 as traders bet the rate hike would come in July. Although the blue
chips stalled, the NASDAQ Combined Composite shot up 2.9% for the week, the S&P
MidCap 400, 0.9%, and the S&P SmallCap 600, 1.4%. The PSE Technology index
gained 2.5% and
reached a new high on May 21.
STOCKS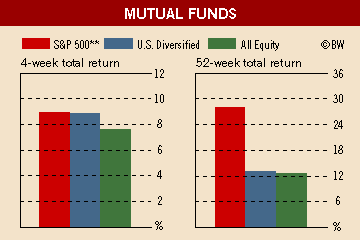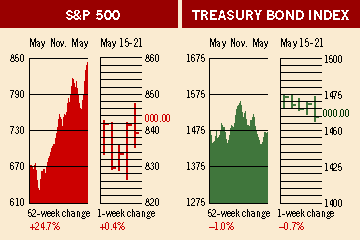 % change
      U.S. MARKETS                                      Latest    Week      Year
      Dow Jones Industrials                             7290.7    0.1       27.1
      NASDAQ Combined Composite                         1373.8    2.9       10.4
      S&P MidCap 400                                    272.4     0.9       12.5
      S&P SmallCap 600                                  150.3     1.4       7.2
      S&P SuperComposite 1500                           179.3     0.5       22.7
      
                                                                    % change
      SECTORS                                           Latest    Week      Year
      Bloomberg Information Age                         258.9     2.2       21.7
      S&P Financials                                    93.3      -1.7      38.8
      S&P Utilities                                     191.5     -1.2      -1.6
      PSE Technology                                    275.8     2.5       21.5
      
                                                                     % change
      FOREIGN MARKETS                                   Latest    Week      Year
      London (FT-SE 100)                                4642.0    -1.0      22.5
      Frankfurt (DAX)                                   3596.1    0.6       39.9
      Tokyo (NIKKEI 225)                                19,842.0  -1.8      -10.2
      Hong Kong (Hang Seng)                             14,235.5  0.6       28.4
      Toronto (TSE 300)                                 6307.1    0.9       20.4
      Mexico City (IPC)                                 3974.4    2.1       18.9
      
                                                                  Week      Year
      FUNDAMENTALS                                      Latest    ago        ago
      S&P 500 Dividend Yield                            1.77%     1.78%     2.09%
      S&P 500 P/E Ratio (Last 12 mos.)                  21.3      21.0      19.7
      S&P 500 P/E Ratio (Next 12 mos.)*                 17.5      17.2      NA
      First Call Earnings Revison*                      -1.03%    -0.47%    NA
      
                                                                  Week
      TECHNICAL INDICATORS                              Latest    ago       Reading
      S&P 500 200-day average                           744.1     739.4     Positive
      Stocks above 200-day average                      66.0%     66.0%     Neutral
      Options: Put/call ratio                           0.57      0.55      Negative
      Insiders: Vickers Sell/buy ratio                  1.43      1.63      Positive
      
      BEST-PERFORMING                    Last
      GROUPS                             month%
      Machine Tools                      34.4
      Communications Equip.              28.0
      Computer Systems                   23.0
      Toys                               18.9
      Health-Care Services               18.6
      
                                         Last 12
                                         months%
      Semiconductors                      73.7
      Savings & Loans                     59.4
      Invest. Banking/Brkrge.             51.0
      Household Products                  49.6
      Computer Software                   47.4
      
      WORST-PERFORMING                   Last
      GROUPS                             month%
      Engineering & Constr.              -0.6
      Pollution Control                  1.0
      Transportation Svcs.               1.1
      Restaurants                        1.2
      Defense Electronics                2.0
      
                                         Last 12
                                         months%
      Gold Mining                        -29.8
      Engineering & Constr.              -20.7
      Defense Electronics                -11.9
      Broadcasting                       -11.0
      Specialty Printing                 -6.0
      
      BLOOMBERG MONEY FLOW ANALYSIS
      Rebound ahead?  Stocks with most                   1-month
      significant buying on price weakness     Price     change
      MCI Communications                       38 1/8    -1/8
      Electronic Data Systems                  36 3/4    -2 3/8
      GTE                                      42 5/8    -3/4
      Ensco International                      48 1/4    -1 1/4
      Westinghouse Electric                    17 1/8    -1
      Repsol (ADR)                             42 7/8    -1
      
      Decline ahead?  Stocks with most                   1-month
      significant selling on price strength    Price     change
      Cisco Systems                            64 3/8    17 1/16
      3Com                                     39        12 5/8
      Microsoft                                119 1/8   11 1/2
      Intel                                    161       22 5/8
      Dell Computer                            99 5/8    24 3/4
      WorldCom                                 26 1/4    4 3/8
      
      INTEREST  RATES
                                        Latest    Week      Year
      KEY RATES                         week%     ago%      ago%
      MONEY MARKET FUNDS                5.12      5.11      4.85
      90-DAY TREASURY BILLS             5.11      5.19      5.18
      6-MONTH BANK CDS                  5.23      5.23      4.90
      1-YEAR TREASURY BILLS             5.76      5.86      5.57
      10-YEAR TREASURY NOTES            6.72      6.68      6.65
      30-YEAR TREASURY BONDS            6.96      6.90      6.85
      LONG-TERM AA INDUSTRIALS          7.49      7.40      7.44
      LONG-TERM BBB INDUSTRIALS         7.90      7.85      7.81
      LONG-TERM AA TELEPHONES           7.71      7.64      7.65
      
      BLOOMBERG MUNI YIELD EQUIVALENTS
      Taxable equivalent yields on AAA-rated, tax-exempt municipal bonds,
      assuming a 31% federal tax rate.
                                         10-yr. bond         30-yr. bond
                                        Latest    Last      Latest    Last
                                        week      week      week      week
      GENERAL OBLIGATIONS               4.91%     4.96%     5.50%     5.50%
      PERCENT OF TREASURIES             73.04     74.45     79.05     79.99
      TAXABLE EQUIVALENT                7.12      7.19      7.97      7.97
      INSURED REVENUE BONDS             5.05      5.10      5.70      5.70
      PERCENT OF TREASURIES             75.12     76.56     81.92     82.90
      TAXABLE EQUIVALENT                7.32      7.39      8.26      8.26
      
      MUTUAL FUNDS
      EQUITY FUNDS
      Leaders                             Laggards
      Four-week total return           %  Four-week total return         %
      Amerindo Technology D         36.7  Prudent Bear                 -8.6
      Pin Oak Aggressive Stock      24.6  Rydex Ursa                   -7.6
      Interactive Inv. Tech Value   23.5  Comstock Part. Cap Val. B    -5.6
      Van Wagoner Post-Venture      21.6  Merrill Emerging Tigers B    -4.6
      Robertson Steph. Info. Age A  20.4  Lexington Strat. Invmnts.    -3.3
      Legg Mason Value Primary      44.0  United Svcs. Gold Shares     -44.6
      Morgan Stan. Inst. Lat. Am. A 42.6  Steadman Technology Grth.    -41.5
      Davis Financial A             41.8  Perkins Opportunity          -37.9
      Morgan Stanley Latin Amer. A  41.4  Dreyfus Aggressive Growth    -37.4
      Vontobel Eastern Europ. Eq.   41.1  Apex Mid Cap Growth          -36.4
      
      EQUITY FUND CATEGORIES
      Leaders                             Laggards
      52-week total return           %    52-week total return          %
      Technology                     15.9 Precious Metals               2.1
      Japan                          15.7 Diversified Emerging Markets  2.3
      Small-cap Growth               11.4 Pacific/Asia ex-Japan         2.7
      Mid-cap Growth                 10.4 Real Estate                   2.8
      Large-cap Growth               10.0 International Hybrid          4.6
      Financial                      35.0 Precious Metals              -25.6
      Real Estate                    28.5 Small-cap Growth             -10.7
      Latin America                  26.5 Japan                         -8.1
      Europe                         21.9 Diversified Pacific/Asia      -0.2
      Large-cap Blend                21.7 Communications                0.2
      
      All data are as of market close Wednesday, May 21, 1997, unless otherwise 
      indicated. Industry groups include S&P 500 companies only.  Fundamentals, 
      technical indicators, Bloomberg money flow analysis, and mutual fund returns 
      are as of May 20. For a
      more detailed explanation, write to us or E-mail figures@businessweek.com.  
      NA=Not available  **Vanguard Index 500 Fund