Haworth's Suite Dreams
Bill Vlasic
Office Explorations
Designer: Haworth Inc.
In contract furniture, Haworth Inc. has not been known as a "go wild" kind of company. But Office Explorations, a gold-winning group of furniture prototypes for the future, puts Haworth at the head of the pack for conceptual exuberance.
In the new work world of teams and high technology, the prototypes attempt to improve office workers' productivity by reorganizing their desks--and making them just a bit less comfortable. Take the "sit/stand chair," a backless chair that encourages movement and mental stimulation. The chair is paired with the Wake workstation, which is designed to eliminate clutter and arrange materials spatially the way research shows the mind does.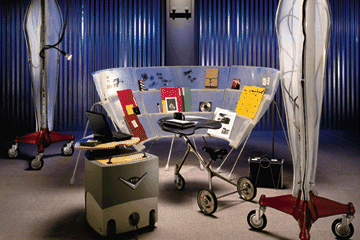 Sounds like pretty heavy stuff. But the IDEA judges were impressed with how Haworth, based in Holland, Mich., pushed the envelope of creativity. "It explores new possibilities for organizing information, technology, documents, and work tools," says Michael McCoy of McCoy & McCoy Associates in Buena Vista, Colo. A futuristic piece of furniture called the Drift is a curved wall of opaque fiberglass that displays files and work items upright. Attached is a small table designed for a laptop computer. And there's not much chance of relaxing on Wake's chair--a three-wheeled contraption that's equipped with a bicycle seat and a writing surface.
None of the Office Explorations items is ready for sale, and it may be that people will simply refuse to accept anything so radical as these pieces of office furniture. But Haworth's prototypes are certainly provocative and challenge established norms. Who knows? One day we may all go to the office and find a Wake and a Drift instead of our desk and chair.
Before it's here, it's on the Bloomberg Terminal.
LEARN MORE