Ford's Ka: A Car From A Bottle
By
Ford Ka
Designer: Ford Motor Co.
For Fritz Mayhew, Ford's chief European small-car designer, inspiration for an award-winning design arrived in a bottle of water. As he and his wife shared a romantic lunch at London's Canteen restaurant, Mayhew was suddenly distracted by the bottle of Evian water their waiter had placed before them. Jagged mountains etched along the top of the bottle reminded Mayhew of an edgy design Ford Motor Co.'s German studio had just proposed for a new European small car. "Sunlight was shining on the bottle, and I said, `There it is,"' recalls Mayhew. "It was one of those `aha!' moments."
Mayhew brought the Evian bottle back to Ford's Dunton (England) design studio that afternoon in early 1994, and it became one of the influences of the sharp design theme of the Ford Ka. Ka, which in Egyptian mythology means "the vital spirit within man," takes car design in a new direction. The Ka's crisp lines, wide stance, and angular tilt represent a rejection of the rounded, aerodynamic trend Ford pioneered in 1986 with the original Taurus. The Ka is what Ford calls "new edge" design, which builds a de-sign from intersections of straight lines rather than depending on soft, flowing curves. It is Ford's look to the future, says Mayhew, who was recently promoted to head designer of large and luxury cars for the auto maker.
What's most amazing, though, is that Ford didn't launch its new design concept on a big, expensive car. The Ka sells for $12,000--and it's less than 12 feet long, four and a half feet shorter than a Taurus. Since the Ka was launched last fall, European consumers have embraced the little car. Brisk demand is expected to boost annual Ka output from 120,000 to 200,000 units. That is helping to give a much-needed lift to Ford's European operations, which lost $291 million in 1996.
Ford is also counting on the Ka to invigorate its money-losing operations in South America, where the car was recently launched. The Ka's next stop is the emerging Asian markets. For now, Ford believes the car is too small for U.S. tastes. "But that's not a dead subject," says Ford Chairman Alex Trotman. "It could happen."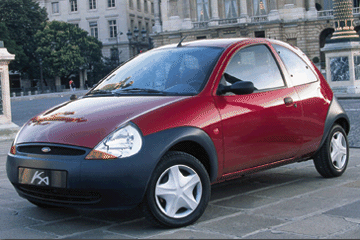 The original Ka concept that top Ford executives approved called for a car that looked "soft and cute," says Mayhew. But after Mayhew and his designers began noticing sharp-lined designs showing up in everything from architecture to water bottles, they decided to go edgy. It took the backing of then-European Chairman Jacques A. Nasser, now Ford's No.2 executive, to persuade Ford's skeptical senior management to take the bold turn away from the aero look. Mayhew and his team brought their new concept from drawing board to showroom in a speedy 24 months.
Today, the spunky sprite of a car is a favorite among Ford's top executives. "It takes me back to driving a little MG," gushes British-born Trotman. Even more important, the Ka is helping restore Ford's reputation as a design risk-taker.
Before it's here, it's on the Bloomberg Terminal.
LEARN MORE