Fast Food Fight
McDonald's aggressive growth strategy isn't going down well with rebel franchisees
Greg Burns
Within the McDonald's empire, the Nibeels of Orange County, Calif., are known as a McFamily--a clan of fast-food franchisees with ketchup running through their veins. Brothers Chuck, Bob, and Bill spent their adolescence in the 1960s dressing burgers and french-frying spuds at their dad's busy McDonald's in Westminster. Each went on to make his fortune as an independent McDonald's owner-operator, working seven-day weeks and earning rich incomes as the chain prospered.
Now, however, McDonald's Corp.'s relentless growth formula is pitting Nibeel brother against brother. In July, 1996, McDonald's opened one of its hundreds of new stores just down the road from Chuck but awarded ownership to Bob. After Chuck protested to McDonald's Oak Brook (Ill.) headquarters, McDonald's USA President Edward H. Rensi ultimately sided with Bob. Now, Chuck is suing the company for encroaching on his business. He and Bob haven't spoken in a year and a half, he says. Bill, who's still running his father's store, remains neutral, but he worries that the company is undermining its operators: "You work and work to build up your business, and they can take a piece away."
OPEN REVOLT. A bigger version of the Nibeel feud is now erupting in the larger McDonald's family--between some of the franchisees who account for 85% of the $32 billion company's U.S. sales and the corporation itself. In recent years, the company has launched an unprecedented expansion to increase market share, as Burger King Corp. and other rivals gained ground with tastier products and sharper marketing. But the additional stores have cannibalized business at existing locations, squeezing franchisees' profits per outlet. Sales at stores open more than a year were down 6.4% in '96, on top of a 2.5% decline in '95.
With their admittedly comfortable livelihoods threatened (an average McDonald's still nets its owner more than $100,000 a year), activist franchisees are in open revolt for the first time in 20 years. Consortium Members Inc., an organization that claims "hundreds" of dissident members, has taken its case to Wall Street and the press, calling for slower expansion and legislation that would protect franchisee rights. McDonald's executives' "primary focus is the stock market and their personal wealth at the expense of franchisees," Dick Adams, a former McDonald's owner-operator and head of the Consortium group, charged at a Chicago news conference on May 21.
McDonald's brass, steaming over the bad publicity, denies that its expansion drive hurts operators. Adams' group "doesn't represent anybody" and has angered many operators by "attacking the brand," counters Jack M. Greenberg, chairman of McDonald's USA. Most franchisees want more growth, not less, so they can get additional stores and make more money in the aggregate, Greenberg says. They're less concerned by cannibalization, he adds, than by price competition, tight labor markets, and other issues that have a bigger effect on their bottom lines.
Even so, Greenberg is moving to calm the waters. He's planning a restructuring of McDonald's thick U.S. bureaucracy to eliminate layers and make Oak Brook more responsive--"exactly what the operators want," he says. The company also is tinkering with its mechanism to compensate franchisees whose stores suffer when new outlets open nearby. Operators have complained that the existing program pays too little, too late and that, despite the higher volume when they buy new outlets, their overall margins shrink. McDonald's also says it will beef up its disappointing 55 cents promotion on Big Macs and breakfast meals.
Yet the conflict over expansion won't go away easily. While the chain is slowing its new construction push, it's still planning as many as 600 new stores in '97, Greenberg says. Such growth almost inevitably sets McDonald's at odds with many franchisees. The company, after all, makes money by collecting a percentage of each store's sales--so it pays for the chain to boost overall volumes by adding more stores. Even if new sites generate lower per-store volumes and cut into existing territories, the chain can prosper if overall sales rise, especially since it usually collects higher rents at the new outlets. "For McDonald's, it makes sense to move sales dollars to the new, higher-rent stores," gripes Adams.
BIG IDEAS. Long term, though, making each store less profitable to owners could backfire. As operators juggle more outlets, they could skimp on quality. Stores could deteriorate if they don't have money to reinvest, and national promotions could stumble if owners refuse to go along with price cuts. Plus, fractious relations with franchisees could discourage a source of innovation: It was franchisees, after all, who invented the Big Mac and Egg McMuffin, as well as efficiency methods that helped make McDonald's the quick-service champ.
The McDonald's family feud has some stockpickers nervous. "If you're a franchisee, you're going to start thumbing your nose at them and do everything you can to keep your margins up," predicts Gregory L. Jackson, portfolio manager at Yacktman Asset Management Co., a former investor who has steered clear of the stock recently. Most analysts still favor McDonald's growth prospects--but mainly because of the tremendous potential of its overseas operations. Still, at around 50, its stock is only now returning to its early-1996 level.
Investors shouldn't worry, Greenberg says. McDonald's he says, recognizes the value of its franchisees, and is determined not to let their cash flows suffer. "Very few people have the opportunity to invest in a business that will give them this kind of return," Greenberg notes.
No question, McDonald's owner-operators have some of the best deals in franchising. An exceptional store can yield a half-million dollars in cash flow to the operator, returning as much as 100% on the initial investment in the first year. These days, operator cash flows before depreciation and debt service average about $180,000, down $30,000 from two years ago, according to Paul L. Westra, an analyst at Salomon Brothers Inc. "Franchisees have taken a pay cut, but it's still a damn good deal," Westra notes. Burger King franchisees, by comparison, average about $125,000 a year.
Still, a recent McDonald's survey of store operators obtained by BUSINESS WEEK reflects discontent. Nearly all the 120 or so respondents said they were proud to be McDonald's operators, and 71% were "satisfied with being part of McDonald's." But a large majority predicted cash flows and equity values would continue to erode. And 69% said the company's strategy had strayed off "the right track." Two-thirds felt the company did too little to compensate them for cannibalization.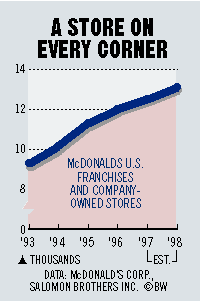 "LEAP OF FAITH." There are McDonald's owner-operators who are willing to bet with the company that expansion will pay off eventually. Locking up choice real estate to fend off competitors should lead to better cash flows in the years ahead, says George J. Kunz, a Las Vegas owner-operator who heads McDonald's National Advertising Assn. "There is a leap of faith. Hopefully, we get more stores and make more money in the long run," Kunz notes.
In the end, though, McDonald's can't squeeze its franchisees too hard. When owner-operators rebelled over similar issues in the 1970s, founder Ray Kroc relented, giving owners more authority and better communication. In the end, McDonald's comeback in the U.S. will depend on new products, stronger marketing, and better food. But there's another vital ingredient: happy, enriched store owners.
Before it's here, it's on the Bloomberg Terminal.
LEARN MORE