A Wallflower About To Bloom?
by
Who's afraid of micro-cap stocks? Not Mike Lauer, managing partner of Lancer Partners, a high-flying New York hedge fund. Despite most small-cap stocks' pathetic performance, Lauer concentrates on outfits with capitalization under $300 million--with impressive results: Lancer's stock portfolio has had triple-digit annual average gains for the past four years. This year through Apr. 30, the fund has gained 21%, while the Russell 5000 small-stock index lost more than 5%.
Lancer's secret? "We seek out fallen angels that we think have a good chance of being revalued and take a 5% to 10% stake in them," says Lauer. One pick: Tech-Sym (TSY), a diversified electronics-engineering company that makes products for communications, oil service, and defense customers. The stock has been a wallflower, trading at 28--where it was seven months ago.
Lauer acquired a big slice of Tech-Sym in 1996 when the stock slumped after Fidelity's Magellan Fund dumped its 12% stake--a few months after Fidelity's Jeff Vinik abruptly resigned as Magellan's chief stock picker. Lauer grabbed part of Magellan's block in the open market and has since accumulated a 7% stake.
What's Tech-Sym's appeal? "The company is unlocking the intrinsic worth of its assets," says Lauer. He expects it will soon take its TRAK Communications subsidiary public as part of a restructuring. Tech-Sym CEO Wendell Gamel told BUSINESS WEEK he would spin off 25% of the unit by yearend. TRAK makes microwave components for wireless and satellite voice and data communications. It produced $131 million of Tech-Sym's total 1996 sales of $321 million.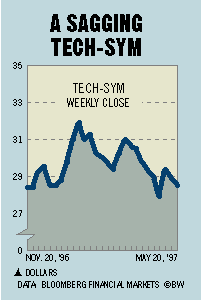 Lauer figures TRAK is worth $170 million, or 29 a share in Tech-Sym stock. The spin-off, he believes, will be similar to what Tech-Sym did last year when it took its GeoScience unit public, spinning off 24.7%. GeoScience, which makes seismic data systems and software for oil-service companies, is worth $100 million, or 13 a share. Lauer figures Tech-Sym will also spin off a part of its defense unit, which he estimates is worth $110 million, or 17.
Lauer says Tech-Sym is worth 59 a share based on its assets. Even if it sells at a 20% discount, the stock is worth 47 a share.
Before it's here, it's on the Bloomberg Terminal.
LEARN MORE