A Frozen Economy Finally Thaws...And Gets Ready To Embrace The Euro
William Echikson
On a sunny spring Saturday afternoon, eager shoppers pack the City Market department store in Jyvaskyla, a university town in Finland's picturesque lake district. As usual, they're buying sausages and six-packs of beer for their post-sauna suppers. But they're also picking up plenty of jewelry, porcelain, and other luxuries. "People finally have the courage to buy," says smiling salesgirl Petra Tirri.
Until recently, that courage had vanished. Faster and harder than any other industrial economy, this nation of 5 million crashed in 1990. The next year, the Soviet Union's collapse wiped out a fifth of Finland's trade. At the same time, paper prices plummeted and a property bubble burst. The government budget deficit ballooned to nearly 10% of gross domestic product, precipitating a massive devaluation of the markka.
ON THE BRINK. "For Finns, the early 1990s were worse than the 1930s," recalls Johnny Akerholm, the under secretary of state for finance. Public spending was slashed, while exporters deployed the weaker currency to make inroads in tough West European markets. Since 1991, exports have soared a total of 30%, and domestic spending finally is recovering. Akerholm estimates 1997 economic growth could reach 5%, among the highest figures in Europe. "We are back on the brink of a virtuous cycle," he says.
In the process, many Finnish companies have turned around. Take Safematic, a maker of valves for the pulp and paper industry. In 1990, the company, based in the forest-enclosed village of Muurame, was a bloated money-loser with 500 employees. By 1993, the number was down to 137. "We were against the wall," recalls sales manager Jussi Sorvoja. By bringing out new products, stepping up export efforts, and holding costs down, Safematic once again is profitable, with almost $30 million in 1996 sales, up from $22.5 million in 1995. And it employs 212.
Exports to the former Soviet Union are recovering, too. Before the Soviet collapse, Finns bartered second-rate textiles and other consumer goods for Russian oil and other natural resources. "Those old days of managed trade are over," says Antti Sierla of the Finnish Foreign Ministry. "Today's trade is market-based and much healthier." Raisio Group, Finland's No.1 margarine maker, now exports two-thirds of its production to Russia and the Baltic states. "We used to be a domestic company," says CEO Matti Salminen. "Now we want to become a regional powerhouse in foods." All told, Finnish exports to Russia rose by 22.5% last year, to almost $2 billion.
But one storm cloud blocks all this sunshine: unemployment. During the recession, joblessness soared from 3.5% in 1990 to 19.3% in 1994. Robust recovery has only brought the figure down to a little more than 16%. That's because the paper and metal industries invest more in new machines than people, and high labor costs and rigid rules throttle job creation. "Everyone says the economy is getting better," says Vuokko Marttila, head of Jyvaskyla's employment office. "But I don't see it here."
Matti Vanhala, a Bank of Finland board member, is confident: "We are ready to enter the single currency today." Finland's deficit and debt have fallen well under the Maastricht Treaty limits, and the Cabinet on May 19 formally proposed early entry. In contrast to much of Europe, public opinion supports the euro--and the European ideal. After decades of living with the stigma of having its independence curtailed by the Soviet Union, Finland joined the EU in 1995. "Belonging to Europe has solidified our image," says the Foreign Ministry's Sierla. "Everyone now knows we are part of the Western club."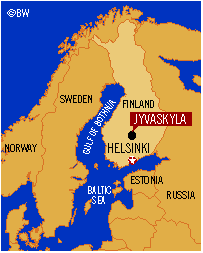 Elsewhere in Europe, the race to a single currency has brought budget-cutting agony. "But in Finland, cuts came because of our own recession," says Deputy Finance Minister Akerholm. "We are able to discuss the issue on its merits." And business is solidly behind the euro.
One potential hangup remains: Euro-skeptical neighbor Sweden looks unlikely to join the single currency, at least in the first wave. That would leave Finland geographically isolated in any new euro bloc. "It might be more comfortable for us if the Swedes were also in," admits central banker Vanhala. But nothing would keep the Finns from joining this elite club.