2000: A Computer Odyssey
By
The streaking stock of Crystal Systems Solutions (CRYSF) would scare off a lot of investors: It went public on Jan. 31 at 71/2. Five months later, it is trading at 177/8. Time to short the stock? Not at all, says money manager Fran Saldutti of Ardent Partners. He's convinced the stock will hit 30, at least.
Crystal is a pure play in the business of providing solutions to the so-called year-2000 problem: Most computer systems cannot process information for 2000 and beyond. These programs could misinterpret "00" as 1900, causing faulty processing.
One of the tiniest of the millennium companies, Crystal is among the fastest-growing, says Saldutti. He's impressed with its blue-chip clients. Among them: Ford, Eastman Kodak, Phillips Petroleum, Ralston Purina, and Union Pacific. Its partnership with Ernst & Young to provide millennium solutions to Ernst & Young clients has given Crystal an envied customer list.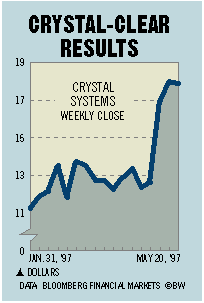 Crystal's core product--C-Mill tools and methodologies--handles the conversion and testing solution. Crystal also stands to benefit, says Saldutti, from the currency conversion in Europe. Analyst Vivek Rao of Hampshire Securities, which took Crystal public, says the company has modified its C-Mill tool to have the capability of dealing with the issues generated by the European Union's move. Crystal is looking for strategic partners to exploit millennium and currency conversion opportunities in Europe, Asia, and Latin America, says Rao.
He has raised his earnings estimate for 1997 from 31 cents a share to 36 cents, and for 1998 from 59 cents to 62 cents, based on better than expected first-quarter profits.