Will Big Oil Spell Hope Or More Misery?
Jane Knight
At Pedernales, at the mouth of the Orinoco River, the night sky is broken by harsh lights from an oil drilling platform dubbed "La Cucaracha." Across the river, where the smell of oil battles with the sea air, a native begs for food. Another staggers about, a bottle in hand. Soft-drink containers and rum bottles litter the area. Flores Ambrosio, a chief of the Warao Indians, complains that noise from the oil activity frightened away the fish that were his village's main source of food. "We are hungry," he says.
Change is sweeping with the tides through the Orinoco River Delta in northeast Venezuela, home to 25,000 Warao Indians and the center of an eastern Venezuelan oil boom. Last year, the government sold exploration rights to 2,500 square miles of Warao land to multinational oil companies. Offshore rights to waters bordering Warao fishing areas were sold, too. Now, Amoco, British Petroleum, Louisiana Land & Exploration, and others employ thousands of outsiders to search for oil. The companies predict production of 600,000 barrels a day in 10 years.
The conflict this creates is familiar in Third World countries: Oil giants bring much needed jobs but threaten the environment and local cultures. Oil development here could destroy fish, wildlife, and forests. It brings alcoholism and prostitution. "There is no benefit that can balance the debt the Warao are going to pay," says tribal member Jesus Jmenez, a congressman in the Latin American Indigenous Parliament.
Tourism, drug traffic, and a dam have already brought changes to the Warao. But companies promise that oil development will be different. "Oil companies have messed up elsewhere in the world. This is a chance for us to get it right," says an executive of BP, which is taking the lead in tackling the issues.
BP is working on their own and with Venezuelan Petroleum Corp. (CVP), a subsidiary of the state oil company, Petrleos de Venezuela, on anthropological and ecological studies. They meet regularly with Warao chiefs to resolve issues. To minimize deforestation, they use rafts for base camps and lightweight aluminum machines for seismic work. "The environmental regulations here are probably the strictest I have worked with in 22 years," says Amoco duty officer Ferrlyn Alleman. "Our impact will be minimal," adds Michael C. Daly, BP exploration manager.
JOBS. For better or worse, the impact on the natives will be anything but minimal. Long neglected by the Venezuelan government, they are illiterate, undernourished, and suffer from chronic health problems. "We want help--a telephone, a clinic, something," says an almost toothless Marta Maleve in the Warao village of Wina Morena. She is surrounded by potbellied children, who run around on bowed legs. "We are always poor. We are always behind."
The oil companies could change that. On Isla Misteriosa, the bright blue school building stands out among thatched huts. But unfunded, the school is shuttered. "None of our children knows how to read," says chief Gernimo Gonzalez. BP says it will open the school.
Gonzalez also points to an electricity plant that has been shut for 15 years, and water tanks used to collect rainwater, the village's fresh water supply. BP will change that, too, by installing a generating plant and building a water purification facility. BP has also opened its clinics free to the Warao and wants to finance a health-care boat with a mini- surgery facility to visit villages.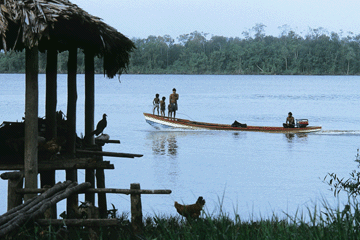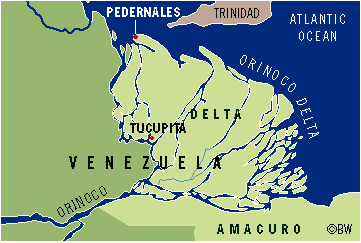 What villagers want more than electricity and clinics, though, is jobs. The oil companies now employ a few hundred natives. Many Indians don't have identification cards or fail health tests. And anthropologists warn that mass hiring of natives will cause migration and dependence on paid employment, leaving the Warao even worse off after the oil companies leave. "The only people who will benefit will be those who sell rum," says anthropologist Bernarda Escalantes.
Indians are affected by the drug traffic on the river, too. The question is whether the dramatic change caused by oil development will bring a better life for the Warao, or just rum bottles.
Before it's here, it's on the Bloomberg Terminal.
LEARN MORE