U.S.: Time For The Fed To Take Out Some More Insurance?
The Fed must decide between demand worries and structural benefits
by
What causes inflation? In every business cycle, the answer is the same: excess demand financed by accommodative credit conditions that strains the economy's ability to satisfy it. However, the problem for forecasters, especially those who have to make monetary policy, is that all cycles are different. So, inflation is often a moving target, which makes preemptive efforts to contain it particularly challenging.
The Federal Reserve's policy committee will sit down on May 20 to decide if they should take another shot at the beast, having barely seen its shadow (chart). Keep in mind that "persisting strength in demand" was the reason the Fed gave for its Mar. 25 rate hike. So at the next meeting, the main discussion will be whether demand in the second and third quarters is slowing enough to vent some of the price pressures that are starting to show up in growing labor shortages and rising capacity utilization rates.
But these are cyclical pressures. What's making the Fed's job especially tough now is this expansion's unique structural influences on inflation. These forces, mainly new technology and globalization, have augmented the economy's ability to meet the demands for labor and products while keeping inflation at bay.
But the Fed knows that, with the economy using almost all its available resources, demand growth is capable of overwhelming even these powerful structural factors. Consequently, in an era of preemptive policy, the Fed must decide how this tug of war will play out during the coming year.
THE EXPECTATIONS of another quarter-point hike have eased from the near-unanimity of several weeks ago, amid indications of the benefits of these structural changes and signs that demand is slowing from its first-quarter gallop. Retail sales in April, for example, fell 0.3%, after no growth in March. January and February buying had soared 1.6% and 1.3%, respectively. A poll of 23 economists taken by MMS International on May 9 shows that only 60% of them expected a rate increase on May 20.
Also, Fed Chairman Alan Greenspan's May 8 defense of the Mar. 25 tightening suggests that he is feeling some heat from critics of that move. And after years of Greenspan's admonishment of Congress and the White House to balance the budget, a rate hike so soon after the budget deal could be viewed as ill-timed.
Still, as that 60% believe, there are other factors. If Greenspan wants to take out some inflation insurance, as he has suggested, then a quarter-point doesn't buy much. And what about potential excess demand for financial assets? If the Fed chief was concerned about irrational exuberance in the stock market and its potential spillover effects on spending back in December, when the Dow Jones industrial average was at 6400, what must he think now with the Dow having soared 900 points in four weeks, to above 7300?
THEN THERE'S DEMAND, the crucial cyclical ingredient to future price pressures. While the broad April weakness in retail buying gives the Fed some breathing room for now (chart), it says little about the outlook. In fact, projecting continued softness runs counter to sturdy consumer basics: strong labor markets, rising real incomes, high confidence, and stunning stock-market gains.
Some of the negative influences on April buying were temporary. Many retailers cited poor weather and an early Easter. Car sales dropped after incentive programs and good weather boosted winter buying, and auto strikes created some shortages of popular models. Also, the pace of tax refunds has slowed, and April tax payments are expected to set a record. After these influences wane, spending could rebound this summer.
Looking beyond consumers, the outlooks for capital spending and exports have improved. Orders for capital goods rose at an annual rate of 7.6% last quarter, four times faster than the fourth-quarter pace, suggesting strong shipments in the second quarter. Excluding aircraft, bookings for new equipment soared at a 21% rate. Also, demand abroad is firming up, which will offset some of the negative impact from the stronger dollar, and its new weakness against the yen will help exports to Japan.
Strong growth in overall demand for goods has created the need for businesses to restock their inventories. Inventories at manufacturers, wholesalers, and retailers rose 0.3% in March vs. a sales decline of 0.3%. That showing put the month's ratio of inventories to sales at 1.37, just above February's record low (chart). With sales growth nearly double the increase in stockpiles during the past six months, some additional stockbuilding seems warranted, a key reason for manufacturing's continued strength.
THE OFFICIAL PRICE INDEXES still show that any strains from strong demand are not visible in pricing trends. In particular, the April producer price index fell 0.6%, depressed by a 2.6% drop in energy prices. Also, computer prices dropped 4%, an area where strong demand for capital goods actually depresses overall inflation, since prices there are falling because of rapid technological innovation. The core index, which excludes energy and food, dipped 0.1%.
Still, anecdotal reports on price and cost pressures are no longer uniformly tame. The Fed's Beige Book, which summarizes business conditions in the Fed's 12 districts in preparation for the May 20 meeting, noted that labor markets remained tight in most areas "with a few new reports of upward wage pressures." Also, numerous retailers in Boston have reported "increased demand is allowing them to raise prices," while in Chicago, inventories were in "very good shape, resulting in less need for sales promotions and discounting."
The Federal Reserve Bank of Atlanta's manufacturing report for April indicated that companies in the Southeast saw business increasing. And the Richmond Fed survey showed that service prices in that region rose more in April than in March. Significantly, the presidents of the Atlanta and Richmond Feds are voting members of the policy committee this year.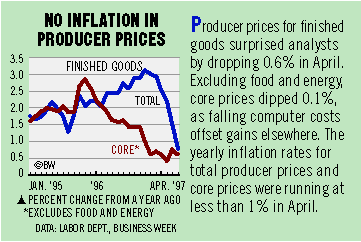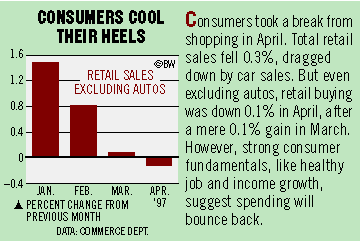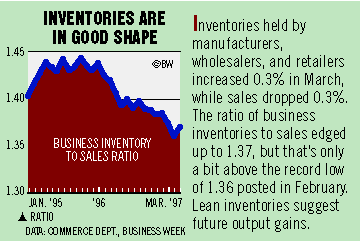 The problem for policymakers, though, is that unlike cyclical forces, structural economic changes are not catalogued in any monthly data, and even the quarterly data on such factors as productivity are suspect. That leaves anecdotes and gut feelings to confirm the glacial shifts in the economy's configuration.
Greenspan alluded to this conundrum on May 8. But he added that separating guts and data is partly what monetary policy is about. So when policy is made on May 20, Fed officials in effect will be choosing between the benefits of structural forces and the inflationary harm of potential cyclical excesses. Where they put their faith will be the key to whether the Fed decides to keep the current insurance policy in force--or take out a bit more coverage.
Before it's here, it's on the Bloomberg Terminal.
LEARN MORE