The States Are In Fat City For Now
But how much of the credit should go to tax relief?
Amy Borrus
When President Clinton and congressional leaders clinched a balanced-budget agreement that at long last included tax cuts, the reaction in many state capitols was a yawn. After all, when it comes to tax relief, the states have been the pacesetters. Governors across the nation have cut $10.5 billion in taxes over the past three years and plan some $4.4 billion in new reductions for 1998.
So far, the state tax-cutting frenzy has been a painless fiscal exercise. The U.S. economy has buoyed all but scattered pockets of the country and fattened the coffers of states in every region. Altogether, states had more than $20 billion left over at the end of 1996. "They've got more money than they know what to do with," says Scott Mackey, a tax analyst at the National Conference of State Legislatures. And the good times should keep rolling: Regional Financial Associates, the economic forecasting firm, is projecting even higher growth for states in almost every region than it did just six months ago.
The last time states were so flush, at the end of the 1970s, some made modest cuts, mostly in property taxes. But much of the bonanza was spent on programs. This time, with small-government Republicans in charge of 32 statehouses, governors are holding the line on new services and giving taxpayers more of their money back.
In many states, cuts have been crafted specifically to spur business development--or to keep businesses from relocating out of state. Pennsylvania cut the corporate tax rate from 12.25% to 9.99% in 1995, and this year it eliminated a tax on computer services. "It's working," says Robert M. Aiken Jr., chief financial officer at Philadelphia-based Sun Co. "It creates a positive environment for business." Indeed, Walter J. Tusinski, chief financial officer of Arco Chemical Co., says that Arco chooses to stay in the state partly because the "tax regime strikes us as fair and not an inducement for us to move."
"WAKE-UP CALL." But often corporations are even happier about state efforts to cut red tape. Consider Eastman Kodak Co. Since 1995, the Rochester (N.Y.) company has invested $500 million in a new plant in its hometown, in part because Governor George E. Pataki sped up the resolution of some tax-audit questions and was flexible on environmental concerns. Pataki's $6 billion tax cut, mostly on personal income, "was not as big a consideration," says Kodak Treasurer Jesse J. Greene Jr.
Many economists, in fact, believe tax relief doesn't lift economic fortunes as much as tax-cut crusaders contend. In New Jersey, Governor Christine Todd Whitman slashed income taxes 30% over three years. But New Jersey's 1% jobs growth in 1996 was less than half the 2.2% national average.
Tax cuts tend to matter most in states where levies have gotten out of whack in relation to those of their neighbors. High-tax California got "a wake-up call" when industries started leaving for cheaper Sunbelt locales, says Thomas J. Nechyba, professor of economics at Stanford University. California's 5% tax cut for corporations and banks, enacted last year as the state racked up a $2.7 billion surplus, helped stall the migration of businesses to lower-tax states. "The value is the message that it sends--that California is open for business--more than the money it saves," says Wilford D. Godbold Jr., CEO of Zero Corp., a Los Angeles container maker.
Tax cuts aren't freebies, however. In New Jersey, local officials have hiked property taxes to partially offset state income-tax cuts. In Michigan, which slashed property taxes in 1994, roads have deteriorated so much that contests are held to name the biggest potholes. Vic Giller, president of Greater Detroit Cab Co., a family-run company with 119 cabs, says he has spent $5,000 on hubcaps alone this year. GOP Governor John Engler, a tax-cut pioneer, is now proposing a gas-tax hike to help come up with $370 million for repairs.
UNAFFORDABLE? New York financed its tax cuts by reducing payments to Medicaid providers, freezing spending, and hiking tuition by $750 a year at state universities. Last year, Pataki also borrowed $480 million from the state's medical malpractice insurance fund--a one-time move. "We're living beyond our means with tax cuts that are unaffordable" in the long run, says Frank J. Munro, executive director of the Fiscal Policy Institute in Albany.
Moreover, all this tax-cutting is happening during an astoundingly long-lived expansion. What happens when the good times end? Even though most states are socking some of their surplus into rainy-day funds, "it won't be enough to weather a recession," says economist Elizabeth Davis of the Center for the Study of the States. And with Washington shifting welfare and Medicaid costs to the states, a downturn will hit state coffers particularly hard.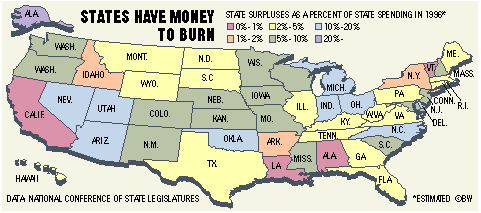 Having championed tax cuts, many governors will be loath to reverse course when the economy slows. "Tax hikes are not considered an option for Governor Whitman," says a New Jersey official who nonetheless concedes that Whitman's 30% income-tax reduction "puts us in less of a good position to weather a downturn." The only alternative would be cutbacks in services and increases in licenses and other user fees. But so long as the economy remains strong and voters remain content, Whitman and her tax-cutting colleagues will savor the joys of spreading the wealth around.
Before it's here, it's on the Bloomberg Terminal.
LEARN MORE