Putting Egghead Together Again
By
Most investors would shun Egghead (EGGS), a retailer of software and accessories through its 86 stores nationwide: Sales and earnings have been way down. And its stock, which rose to 13 last year, has skidded to around 4. But it's the sort of stock that a money man such as Vince Carrino, who heads Brookhaven Capital Management in Menlo Park, Calif., just loves. He has been loading up.
"We try to find companies that are value plays, with some catalyst that will unlock their intrinsic worth," says Carrino, who has achieved a 30% annual return for the past 10 years.
What's the catalyst at Egghead, which lost $11.1 million, or 64 cents a share, in the year ended Mar. 31, 1996? It's restructuring--getting rid of half its stores, slashing 44% of its staff, and selling real estate. From asset sales alone, the company has cash of $83 million. Carrino figures that could rise to $100 million by the end of fiscal 1998.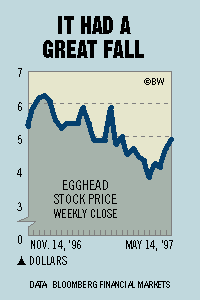 Through cost-cutting and sell-offs, Carrino sees Egghead breaking even in fiscal 1997. By next year, the company may look very different, he adds. Egghead could well sell its retail operation, which he estimates is worth $50 million. It could then focus on the business it recently agreed to buy for $27 million in stock: Surplus Software, a reseller of out-of-date computer products through direct-mail catalogs and a Web site on the Internet. It posted sales of $48 million last year.
If Egghead succeeds in its retail revamp, the stock could hit 8, Carrino thinks. Based on assets--including the Internet business of Surplus Software--the stock is worth 15, he says.