Investment Figures Of The Week
COMMENTARY
Fear that the Fed will hike interest rates on May 20 made for a volatile stock
market. Still, signs of a slowing economy spurred the Dow Jones industrial
average and the Standard & Poor's 500-stock index to all-time highs on May 12.
Both indexes are up about 13% for the year. Lower-than-expected retail sales
and a drop in the producer price index were catalysts for the advance. Rising
bond prices sent the yield on the 30-year Treasury down from 6.96% to 6.88% for
the week.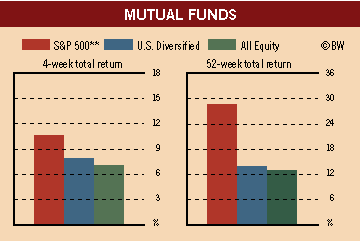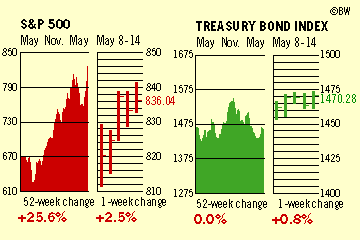 % change
      U.S. MARKETS                       Latest       Week        Year
      Dow Jones Industrials              7286.2        2.8        29.5
      NASDAQ Combined Composite          1335.6        1.0         8.3
      S&P MidCap 400                      269.8        1.4        12.1
      S&P SmallCap 600                    148.2        1.5         7.3
      S&P SuperComposite 1500             178.4        2.4        23.3
      
      SECTORS                            Latest       Week        Year
      Bloomberg Information Age           253.3        1.4        18.3
      S&P Financials                       94.9        3.5        42.9
      S&P Utilities                       193.9        0.6        -0.9
      PSE Technology                      269.1        0.7        18.0
      
                                                          % change
      FOREIGN MARKETS                    Latest       Week        Year
      London (FT-SE 100)                 4686.9        3.3        24.1
      Frankfurt (DAX)                    3573.7        0.6        41.3
      Tokyo (NIKKEI 225)               20,209.7        0.8        -8.4
      Hong Kong (Hang Seng)            14,153.6        4.0        30.3
      Toronto (TSE 300)                  6248.2        2.2        19.9
      Mexico City (IPC)                  3894.2        3.2        19.8
      
                                                      Week        Year
      FUNDAMENTALS                       Latest        ago         ago
      S&P 500 Dividend Yield               1.78%      1.79%       2.13%
      S&P 500 P/E Ratio (Last 12 mos.)     21.0       20.9        19.4
      S&P 500 P/E Ratio (Next 12 mos.)*    17.2       17.1          NA
      First Call Earnings Surprise*        3.48%      3.52%         NA
      
                                                      Week
      TECHNICAL INDICATORS               Latest        ago     Reading
      S&P 500 200-day average             739.4      734.5    Positive
      Stocks above 200-day average         66.0%      65.0%    Neutral
      Options: Put/call ratio              0.55       0.56    Negative
      Insiders: Vickers Sell/buy ratio     1.63       1.72    Positive
      
      BEST-PERFORMING         Last                         Last 12
      GROUPS                month%                         months%
      Machine Tools           33.8    Savings & Loans         63.0
      Instrumentation         21.9    Semiconductors          60.9
      Computer Systems        18.9    Invest. Banking/Brkrge. 54.0
      Soft Drinks             18.7    Diversified Health-Care 49.4
      Diversified Health-Care 18.2    Household Products      47.9
      
      WORST-PERFORMING        Last                         Last 12
      GROUPS                month%                         months%
      Shoes                   -0.8    Gold Mining            -30.4
      Engineering & Constr.   -0.8    Engineering & Constr.  -19.6
      Gold Mining              3.0    Broadcasting           -11.7
      Apparel Manufacturing    3.1    Defense Electronics     -9.7
      HMOs                     3.2    Metals                  -7.1
      
      BLOOMBERG MONEY FLOW ANALYSIS
      Rebound ahead?  Stocks with most                       1-month
      significant buying on price weakness     Price          change
      Micron Technology                       34 5/8         -4
      OnTrak Systems                          26 7/8         -7/16
      Adaptec                                 35 11/16       -1 9/16
      Ensco International                     46 1/8         -1 1/4
      Gucci Group                             69 1/2         -2 1/8
      Westinghouse Electric                   16 1/2         -1 1/2
      
      Decline ahead?  Stocks with most                       1-month
      significant buying on price weakness     Price          change
      Intel                                  152 3/8         18 5/8
      Cisco Systems                           62 3/8          9 1/8
      3Com                                    36 7/8          5 3/8
      Sun Microsystems                        30 13/16          15/16
      Philip Morris                           42 3/8          3 7/8
      WorldCom                                26              3 3/8
      
                                         Latest       Week        Year
      KEY RATES                           week%       ago%        ago%
      MONEY MARKET FUNDS                   5.11       5.10        4.84
      90-DAY TREASURY BILLS                5.16       5.22        5.14
      6-MONTH BANK CDS                     5.23       5.23        4.89
      1-YEAR TREASURY BILLS                5.81       5.95        5.58
      10-YEAR TREASURY NOTES               6.66       6.76        6.66
      30-YEAR TREASURY BONDS               6.88       6.96        6.85
      LONG-TERM AA INDUSTRIALS             7.40       7.48        7.42
      LONG-TERM BBB INDUSTRIALS            7.85       7.93        7.84
      LONG-TERM AA TELEPHONES              7.64       7.72        7.66
      
      BLOOMBERG MUNI YIELD EQUIVALENTS
      Taxable equivalent yields on AAA-rated, tax-exempt municipal bonds,
      assuming a 31% federal tax rate.
                               10-yr. bond       30-yr. bond
                             Latest    Last    Latest    Last
                               week    week     week    week
      GENERAL OBLIGATIONS     4.96%   5.02%     5.50%   5.56%
      PERCENT OF TREASURIES   74.45   74.40    79.99   79.90
      TAXABLE EQUIVALENT      7.19    7.28      7.97    8.06
      INSURED REVENUE BONDS   5.10    5.18      5.70    5.79
      PERCENT OF TREASURIES   76.56   76.77    82.90   83.20
      TAXABLE EQUIVALENT      7.39    7.51      8.26    8.39
      
      EQUITY FUNDS
      Leaders                         Laggards
      Four-week total return       %  Four-week total return          %
      DFA Japanese Small Co.    24.7  Rydex Ursa                   -9.4
      Amerindo Technology D     23.8  Prudent Bear                 -7.9
      Interactive Inv. Tech Val 18.9  Comstock Part. Cap Val. B    -5.1
      Fidelity Japan Small Co.  18.4  Apex Mid Cap Growth  -2.8
      Dean Witter Japan         17.3  Robertson Steph Devel Ctry A -1.9
      
      Leaders                            Laggards
      52-week total return            %  52-week total return         %
      Legg Mason Value Primary     47.0  United Svcs Gold Shares  -43.5
      Morgan Stan Inst Lat Am A    45.9  Steadman Technology Grth -40.2
      Morgan Stanley Latin Amer A  44.7  Matthews Korea           -38.5
      Davis Financial A            42.4  DFA Japanese Small Co.   -36.8
      Fidelity Sel. Home Finance   42.4  Perkins Opportunity      -36.6
      
      EQUITY FUND CATEGORIES
      Leaders                            Laggards
      Four-week total return         %   Four-week total return       %
      Japan                       14.8   Real Estate                1.1
      Technology                  10.3   Diversified Emerging Mkts  3.1
      Large-cap Growth             9.5   Precious Metals            3.8
      Large-cap Blend              8.9   Pacific/Asia ex-Japan      4.5
      Large-cap Value              8.3   Utilities                  4.6
      
      Leaders                            Laggards
      52-week total return           %   52-week total return         %
      Financial                   35.8   Precious Metals          -24.8
      Latin America               29.2   Japan                    -11.5
      Real Estate                 28.3   Small-cap Growth          -9.4
      Europe                      22.7   Diversified Pacific/Asia  -1.8
      Large-cap Blend             22.6   Communications             0.3
      
      All data are as of market close Wednesday, May 14, 1997, unless otherwise 
      indicated. Industry groups include S&P 500 companies only.  Fundamentals, 
      technical indicators, Bloomberg money flow analysis, and mutual fund returns 
      are as of May 13. For a more detailed explanation, write to us or E-mail 
      figures@businessweek.com.  NA=Not available  **Vanguard Index 500 Fund