business
Hold The Sauerkraut, Pass The Salsa
Karen Nickel Anhalt
Germans aren't bad at brewing beer, but it's hard to find a good frozen margarita here. At least that was so when I arrived in Berlin in 1992 as a journalist and found myself craving that wonderful cocktail. The craving wasn't satisfied until 1995, when my German husband and I and two Latino partners opened our own Tex-Mex restaurant, Las Cucarachas, in East Berlin. Only one other Mexican restaurant operated there then, serving tacos drenched in salad dressing--because they contained lettuce.
East Germans, it turns out, find Tex-Mex simptico, partly because Mexico's a popular travel destination. Reiner Asta, a management consultant, lunches at our restaurant three days a week because "it feels like a vacation," he says. Fastidious Germans, who use knives and forks for sandwiches, seem to get an illicit thrill from Tex-Mex finger food, too.
MENU POLICE. Now, with some 75 Tex-Mex eateries in Berlin, including our second, Lone Star Taqueria, burritos rival bratwurst as German favorites. When a friend visited the United Arab Emirates, a businessman there told him that his favorite German restaurant was Las Cucarachas.
The Germans are even fixing Tex-Mex at home. Kaiser's, a subsidiary of Tengelmann Unternehmensgruppe, sells Pace picante sauce and Old El Paso taco mix and shells. Nestle's German subsidiary, Maggi, which makes soup mixes, markets tortilla chips and dips. Mexican beers, such as Corona, are popular. Jose Cuervo, which entered Germany in 1990, increased sales here 13% last year over 1995.
Despite the popularity of Tex-Mex food, opening Las Cucarachas wasn't easy. German banks rarely make loans to restaurants. Our $150,000 in seed money came from Schultheiss-Brauerei, the Berlin-based unit of brewing conglomerate Brau & Brunnen, and Dutch brewer Heineken. We pay 5% interest--and serve only the lenders' European brew on tap.
Hiring here is a nightmare. By law, Germans get first crack at jobs. We wanted to hire a Puerto Rican cocktail whiz, but the employment office insisted that we offer the position to a German who could speak neither English nor Spanish.
Then there are the menu police: Coca-Cola must be footnoted so consumers know it contains artificial coloring and caffeine; Schweppes Tonic Water, because it has quinine. Calling mango nectar "juice" is a misdemeanor. We were fined $100 for listing Southern Comfort under "whiskeys" instead of "liqueurs." And no small, medium, and large drink sizes here. Beer and soft drinks are sold by the liter and must be served in clearly marked glasses. Guests check.
NO TAMALES. We've made other adjustments. Diners said they did not consider tortillas a fit substitute for bread, so we serve baguettes from a Turkish bakery. But we refused to give in on tamales--a thick coating of cornmeal around a dab of meat. Germans demanded more meat and less cornmeal, which seemed as sacrilegious as serving hot gazpacho, so we took tamales off the menu.
We've also adjusted to the dogs. There's no need for doggie bags in Germany, because diners here bring their canines into the restaurant. Not all pets are lap dogs. Recently, a guest brought a German shepherd the size of a table. I cringed, but guests laughed as the pooch bumped into their chairs.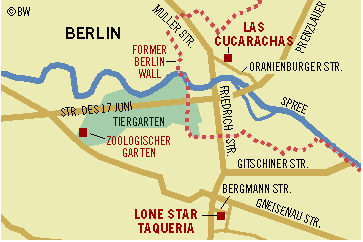 As a former Texan, I thought my job would be settling questions of authenticity. My food-service experience, after all, had been limited to pouring chardonnay into plastic cups at a college reception.
But I spend much of my time as hostess--not an easy job, because Germans don't wait to be seated. They commandeer their table of choice, no matter who's ahead of them. On Cinco de Mayo, Mexico's independence day, as a big crowd drank tequila and listened to a mariachi band, a couple slipped in and claimed a table for 10. They had to be bribed with free tequila before they agreed to move to another table. Those frozen margaritas come in handy.
Before it's here, it's on the Bloomberg Terminal.
LEARN MORE