Gadgets: The Right Small Stuff
Frank Vizard
Nothing brings a smile to one's face faster than a gadget that actually does what it claims to do. The best electronic gizmos are practical, elegant solutions to problems that once were daunting. Or they are simply tremendous time-savers, helpful devices that make the day run smoother.
Ever since the debut of the remote control, other TV gadgets have been vying for space on the coffee table. Now you can watch a movie in glorious surround sound on your home theater system without disturbing the entire clan. The Auri surround-sound transceiver made by Virtual Listening Systems of Gainesville, Fla., enhances the sound capability of any headphones, making the home-theater experience a private one.
Auri is composed of a transmitter that connects to the audio-out jacks on your receiver and television or VCR. The transmitter radios the Dolby Pro Logic surround-sound information encoded on the movie to the receiver, into which headphones are plugged. Then the surround-sound data is massaged with Toltec processing--a mix of algorithms based on studies of how the outer ear directs sounds--and digital sound processing provided by a Motorola Symphony 56000 chip.
At $499, Auri is a bit expensive, but the effect is the same as if you were in a room encircled by speakers. And your position in that room isn't static: The receiver's controls let you pick your own virtual venue--whether a large theater, medium-size hall, or club.
AIRWORTHY. Another device improves the listening experience by reducing distracting background noise. This latest incarnation of the Noisebuster Extreme headphones is made by Noise Cancellation Technologies of Stamford, Conn. This $69 model includes a slide control that lets you adjust how much noise to filter out. An adapter plug can also be used in-flight to block out jet engine noise, making listening to music even more enjoyable.
Watching television just got better too, thanks to WAVECOM Sr. ($229), made by RF Link Technology of Torrance, Calif. This system, composed of a transmitter and receiver, lets viewers watch a video on two TV sets at once without laying down a lot of cable or physically moving the VCR. The image is transmitted to the second TV by a video signal broadcasted from the source television via high-frequency radio waves. The broadcast signal has a range of up to 300 feet and can penetrate walls. And if you hook WAVECOM Sr. up to a video camera, it can also serve as a monitoring system, with the image of, say, a baby, displayed in a picture-in-picture box on the TV. A remote control lets you change channels on the source television from another room. One caveat: Make the popcorn early, since your microwave may disrupt the transmission.
The other main display screen in most people's homes is the computer, and there are a host of new doohickies on the market designed to give your PC a secondary function. Snappy 2.0 is an update of a very useful widget that makes it easy to transfer video stills to your computer. This $200 pocket-size device plugs into the parallel port of your PC. At the touch of a button, it captures a still from any video source, enhancing the image with built-in processing software and cropping it, if need be. New functions emulate a camera with motor drive and time-delay features, turning shots into continuous action--great for analyzing the full sequence of a golf swing, for example.
Electronic TV Host is a new online service that provides in-depth broadcast and cable-TV listings for the top 100 markets. Unlike other television guides, this one comes with a battery-powered mouse-size device called Program Master. Simply point it at a computer screen to download the highlighted programs you wish to record. Then, leave Program Master in front of the VCR and, at the appointed time, it prompts your TV to tune in and your VCR to record. The complete software and hardware package costs $50--including a six-month subscription to the service. It's available from Scottsdale Technologies. (www.scottech.com).
Another clever little gizmo for the PC is TVGenie from AVerMedia. TVGenie is a television tuner--remote control included--that connects directly to a PC monitor. At $149, it gives your PC a second viewing function, letting you bypass the computer entirely and making it easy to just watch TV. A variety of inputs also allows you to connect other video sources, such as a camcorder.
If you spend more time on your telephone than in front of your computer, you may want to check out SmartScreen from SoloPoint that expands the generic voice-mail service from your phone company into a full-fledged answering machine. Unlike typical voice mail systems, SmartScreen allows you to screen incoming calls. About the size of a tape dispenser, this $100 device lets you monitor incoming calls via a tiny speaker, intercepting those you want before they are stored in voice mail. A red light tells you a message is waiting.
USER-FRIENDLY. One reason why you may not be at home to receive those calls could be your active lifestyle. Should your adventures take you underwater, Minolta Camera's new GX-4 may come in mighty handy. This model operates in depths of up to 16.5 feet, making it perfect for snorkeling, skiing, or other wet activities. It is an advanced photo system (APS) camera, which allows you to pick from three different print sizes. Large rubber grips and big buttons make it a snap to operate--even while wearing gloves. And the $175 GX-4 can be worn in a holster or an armband when you're on the go.
Inveterate travelers won't want to miss a new product that takes advantage of the Global Positioning System. GPS is a constellation of orbiting satellites that can pinpoint your exact longitude and latitude within 100 feet. The satellites maintain a fix on your position thanks to a signal emitted by a GPS receiver. Some of the newest GPS products link the receiver to street maps that can be displayed on your laptop computer. When driving, for example, the GPS receiver sits atop your dashboard, relaying your location to the map displayed on the screen. One of the most detailed comes from DeLorme Mapping of Freeport, Me. Its Street Atlas 4.0 CD-ROM is bundled with a small GPS receiver called Tripmate for a list price of $149.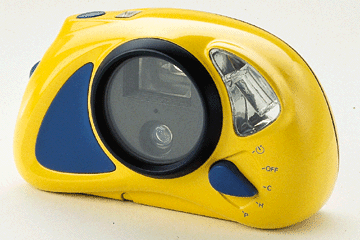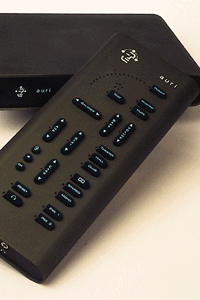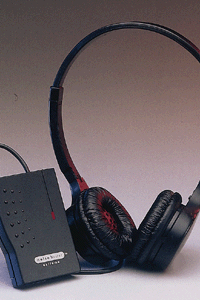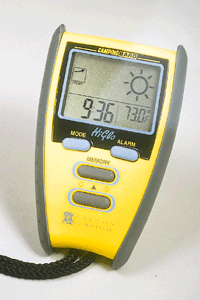 Need to record a voice memo while on that trip? Consider a tiny digital recorder such as the D1000 from Olympus Optical. Destined to replace microcassette recorders, this tapeless wonder uses removable miniature flash memory cards, which come in two sizes. The 2MB card can store up to 34 minutes; the larger 4MB can handle 72 minutes. What's more, you don't have to worry about transcribing the tapes--your digital files can be quickly downloaded to a computer. The D1000 lists for $250 while the 2MB card sells for $50 and the 4MB is priced at $100.
Before you head out the door to go anywhere, it's always a good idea to know the weather. Oregon Scientific's EB 312E weather monitor is a $80 handheld unit, ideal for extended sojourns. It uses an electronic barometer that generates a local forecast for the next 12 to 24 hours. An LCD screen displays one of five icons reflecting the forecast and arrows indicating the direction of barometric pressure. An audible signal warns of impending storms.
Who said there isn't a gadget that can predict the future?