Commentary: Ibm: The Ultimate Case For Patient Capital
Robert Barker
With the market averages leaping once again into an extraterrestrial zone, do we need a reminder that stocks are a good place for patient contrarians to make a lot of money? Maybe not. But the record high set on May 13 in shares of IBM offers us a beauty.
IBM last set a record, 175 7/8, back in August, 1987, shortly before the October crash. The company's new record price, 177 1/8, set briefly on May 13, came amid all kinds of good news, ranging from bright prospects for mainframe exports to Deep Blue's ascent to the pinnacle of chess. In the past three weeks alone, Big Blue's stock has risen 35%.
Can't hate that, but it pales in comparison with what you would have made by buying IBM in 1993, when the stock sank close to 40. IBM back then was unprofitable and hemorrhaging cash. Its CEO, John F. Akers, counted fewer fans than Satan. Investors who bought into Big Blue then were certainly contrarians. But they have seen their money more than quadruple.
GLOBAL REACH. Those investors, however, had more than a strong hunch and some good luck. Plenty of big companies have enjoyed rebounds as amazing as IBM's. From 1991 to 1997, Citicorp soared to 127 1/8 from 8 1/2. General Dynamics, in under three years, surged to 60 from 9 1/2. American Express went to 70 from 29 in two years.
Are all beaten-down big company stocks a good bet? Of course not. Digital Equipment Corp., for one, lost its luster after the 1980s and has never fully recovered. But the winners among these stocks share hallmarks that seasoned investors such as Douglas C. Eby, portfolio manager at $2.8 billion Robert E. Torray & Co., know to look for. "What attracted us to IBM was the company had $64 billion in sales, for God's sake," recalls Eby, who bought IBM in the 40s. "But it had an outlandish cost structure. They needed to change."
Why was he willing to make the bet? "Because it's hard to kill them off," Eby says. Big companies get big by selling products customers need, by staying close to those customers, and by burnishing their brands to draw new buyers. This gives them global reach and huge shares of their markets. That market power provides them with bountiful cash flow, the stuff of formidable balance sheets.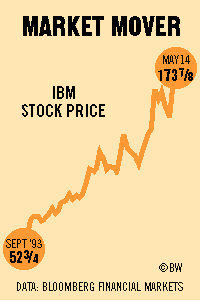 This last point is crucial, since big companies so often seem to run into big trouble. "These are big, unwieldy organizations," Eby notes. But companies with the financial fortitude to ride out the bad times--perhaps even until better management takes hold--often bounce back remarkably.
Which big companies might now prove to be bargains? AT&T, down below 33 from the mid-40s a year ago, is one Eby has bought and may be worth a look. Electronic Data Systems Corp., which has fallen from over 63 to 37 since last October, is another. Betting on either company, both beset by fearsome rivals, would be a contrarian move. And seeing the payoff may require patience. Still, patient contrariness led some to a rock-bottom bargain in IBM.