business
Bright Lights, Big City Won't Cut It For Kmart
Recovery will take much more than an urban push
By
It seemed like a good idea at the time. To hype a hipper, more urbane image, Kmart Corp. let U2 launch its world tour at the new Kmart in Manhattan's Astor Place. While the Irish rock band blasted "Holy Joe" near the lingerie department, lead singer Bono pushed a shopping cart down Aisle 5. Explaining the choice of venue, guitarist Edge said: "We believe in trash. We believe in kitsch."
That's typical of the two-steps-forward, one-step-back grind Kmart Chairman Floyd Hall faces as he tries to turn around the discount chain. Since arriving two years ago, he has snatched Kmart from the brink of bankruptcy by cleaning up the balance sheet and slashing costs. Shareholders were pleased when he produced net income from continuing operations last year of $231 million, and again May 5 when he said that Kmart will report a small profit on May 15 for the quarter ended Apr. 30. Even so, sales remain sluggish, and Wal-Mart Stores Inc. and Target Stores are winning the war for suburban customers.
ELUSIVE PROFITS. That has Hall focusing more on Kmart's urban stores as a source of sales growth and profits. In the past two years, Kmart has overhauled existing city stores and opened new outlets in locales such as San Jose, Calif., and Manhattan, where most big-box discounters fear to tread. The retailer expects that higher traffic in city stores will boost sales: Its two Manhattan stores, for example, are expected to generate $50 million each in annual revenues, four times that of an average Kmart. And Hall chose a refurbished Kmart in Chicago's inner-city Brickyard Mall last month to launch the rollout of his BigK store format, which features an expanded food pantry aimed at boosting traffic. "This is a new beginning, a new Kmart," declared Hall, who declined to be interviewed for this story.
Urban renewal alone won't cure Kmart's ills. Profits have proven elusive at the Manhattan stores, where higher sales volume hasn't overcome astronomical rents. Even if the urban push eventually pays off, city stores make up just 10% of Kmart's 2,133 U.S. outlets. "They have an opportunity to make money
because they have about 200 stores that are not across the street from Wal-Mart," says Patrick McCormack, retail analyst for Alex. Brown & Sons. "It's not a big opportunity, but with Kmart, there are no big opportunities."
Indeed, the chain may be having trouble just keeping the turnaround on track. After jumping 5.7% in the first quarter, same-store sales slumped 0.8% in April. Its stores remain relatively unproductive, averaging just $195 in sales per square foot, vs. $350 at Wal-Mart's stores and $240 at Target's, according to industry analysts. "At some point, we're going to need to see some sales momentum," says Thomas Jackson, portfolio manager of the Prudential Equity Fund, which holds nearly 16.5 million Kmart shares.
That's where the BigK format comes in. Kmart is spending $750 million over three years to convert as many as 1,800 stores. The new mini-convenience-store sections are intended to boost traffic, luring shoppers to the inner store's spacious, well-lit aisles. It's working: "I come into the store for one thing and end up buying more because it's there," says Phyllis Porter, 45, shopping at an expansive new store in Oakland, Calif. Kmart says the new layout is generating 10% to 15% sales improvements.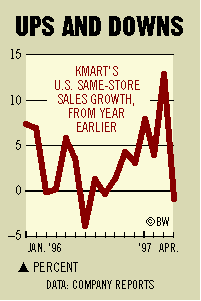 Outside the cities, though, Kmart still is hamstrung by prices consistently higher than those of Wal-Mart. "They've got to cut prices and run at a loss for several quarters to get back in the game," concludes analyst Robert Buchanan at NatWest Securities Corp. Kmart officials say that they won't wage what they see as a fruitless price war with Wal-Mart, choosing instead to engage in "guerrilla pricing" to undercut the huge discounter on a few key items each week.
Kmart can escape Wal-Mart's fire by competing for the pocketbooks of urban shoppers. Ultimately, however, the chain must also win back its customers out in the suburbs. "If Kmart can't get its core stores turned around, its urban strategy is irrelevant," says Wayne Hood, retail analyst for Prudential Securities Inc. U2's rockers may turn heads in Manhattan, but price wins out in the 'burbs.
Before it's here, it's on the Bloomberg Terminal.
LEARN MORE