business
Bon Voyage On The P&O
By
What's an investment manager to do--once he has snapped up the large-cap stocks that have skyrocketed along with the Dow? Robert Lyon, who heads Institutional Capital in Chicago, pursues big-cap stocks that are still undervalued, some of them overseas.
One that recently caught his eye: London's Peninsular & Oriental Steam Navigation--P&O for short. The stock is little known on Wall Street, even though its American depositary receipts (POSNY) trade on the NASDAQ. P&O, which provided many Britons their passage to India in the heyday of the Raj, embarked last year on a huge restructuring plan. Lyon reckons management is moving in the right direction to boost P&O's lackluster stock.
For a decade ending in 1995, it "was among the worst performers in both Britain and the U.S.," notes Lyon. The stock started moving up in mid-1996-- from 15 to 19--when restructuring started. But since then, P&O has been locked in a tight range, around 20.
The company's assets are worth a lot more than the price, says Lyon. "P&O is really an undiscovered value play, at just 10 times estimated 1998 earnings of $1.90 a share," says Lyon. He figures the stock is worth 30.
P&O's cruise business alone, which includes Princess Cruise Lines, is worth half P&O's market cap of $6 billion, says Lyon. This unit had operating profits of $250 million last year, up from the previous year's $175 million. This year, it should earn $300 million.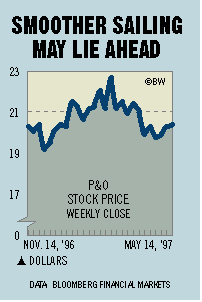 Lyon and other investors, including Merrill Lynch, are pressing P&O to take its cruise unit public by spinning off part of it. As a stand-alone company with assets worth $3 billion, or 10 a share, P&O's cruises could command a much higher price, argues Lyon. P&O's cruise fleet is one of the three largest in the world. Princess Cruise Lines runs nine ships, mainly in North America, while P&O Cruises (U.K.) has three.
Lyon is cheered by P&O's recent sell-offs to reduce its $3 billion in debt. P&O has more than 300 subsidiaries in some 50 countries. Among assets put on the block: a big chunk of its investment properties, including construction unit Bovis Home. (The investment-property business includes management of offices, stores, and shopping centers.) P&O's container-shipping business is a world leader. P&O European Ferries, the biggest operator across the English Channel, has been hurt by the Eurotunnel, so it's merging its Channel services with Stena Line.
Before it's here, it's on the Bloomberg Terminal.
LEARN MORE