business
A Really Big Shoe At Nine West
It's expanding aggressively, but an SEC probe could pinch
Susan Jackson
With slingbacks and sandals selling briskly, this should have been a delightful spring for Nine West Group Inc., the top women's dress-shoe maker in the U.S. and a stock market favorite. But it hasn't worked out that way. Just as executives were rolling out new products and flashy ads, the disclosure of a Securities & Exchange Commission probe of Nine West's accounting practices rocked Wall Street's faith in its onetime darling. Now the controversy is threatening to put a damper on Nine West's aggressive expansion plans.
The problems started on May 6, when the company disclosed in a routine SEC filing that the commission was investigating Nine West's accounting practices. In an analyst briefing the next day, Chief Financial Officer Robert C. Galvin revealed that the probe was primarily focused on accounting irregularities at U.S. Shoe Corp., the Cincinnati-based rival that Nine West snapped up for $600 million in 1995. But the company provided few details about the situation or any indication of how it might be resolved and at what cost.
DIVERSION. Nine West's stock sank 18%, to 32 1/2, after the disclosure, and it continues to languish. "They alluded to things, but they weren't specific, and that's what bothers me," says Jonas Gerstl of EGS Partners, a hedge fund that has a small holding in Nine West shares. His worry: that the investigation could force the company to restate earnings and will divert management's attention from its strategic agenda. CEO Vincent Camuto says his lawyers have told him not to disclose any more information, but he says he's not concerned that the investigation will hurt growth or earnings. "There's no one out there that knows the shoe business better than we do," he says.
The timing couldn't be worse for Nine West, which is counting on expanding into new products and markets. The company, which earned $95 million in 1996 on revenues of $1.6 billion, vs. $72 million on revenues of $1.3 billion the year before, is known for fashionable shoes that are wearable and affordable. It now has 10 brands, including Easy Spirit, the top maker of casual shoes, and has a license to sell some Calvin Klein shoes and handbags. Last year, one in three pairs of women's dress shoes sold in the U.S. were made by Nine West Group.
But shoes aren't a big growth business. Women buy just five pairs a year on average, according to Footwear Market Insights, a market researcher in Nashville, and sales of nonathletic shoes for women--which totaled $10.3 billion in 1995--are expected to rise only 3% to 5% annually for the next five years.
The route to faster growth so far has been diversification. Nine West sunglasses, introduced in January, are now sold in 1,000 department stores, and the company is planning to launch socks and jewelry this year. Handbag sales are expected to reach $100 million this year, and Nine West is expanding the Easy Spirit sneaker line. It's also adding marketing muscle--including new spots to air on MTV for teen brand 9&CO. that feature "acid jazz/hip hop/spoken word artist" Dana Bryant, with shoes painted on her fingernails. Nine West's total ad budget: $48 million.
BIG BASE. For years, Nine West has used factories in Brazil, China, and elsewhere. "They have a tremendous sourcing base," says Gary Klein, chief financial officer of rival Candie's. Now, Nine West wants to sell more of its products overseas, too. "Only 3% of our revenue is international now--I think we can take that to 25% or 30% by 2000," says Camuto.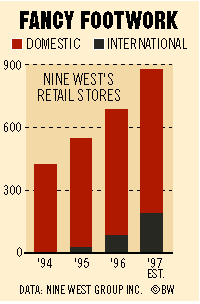 This year alone, Nine West plans to more than double the number of its stores overseas, to 191. In England, it has acquired the Pied Terre chain and is opening more retail stores in Europe and Asia. Concessions in Galeries Lafayette stores in Paris have done well, and more are planned. Although each market has its quirks, "the companies that do their homework and make sure they're in good locations are the ones that are going to win," says Tom Barrett, a money manager with Massachusetts Financial Services Co., which has a 2% share of Nine West.
The plan could work. But if Nine West is to pull it off, it needs to make sure it doesn't get caught flat-footed by any more accounting problems.
Before it's here, it's on the Bloomberg Terminal.
LEARN MORE