Why This Steel Chief Has Such An Iron Will
As a strike drags on, WHX Chairman LaBow has little to lose
by
You might think that WHX Chairman Ronald LaBow has reason to feel glum. After buying control of bankrupt Wheeling Pittsburgh Steel Corp. a decade ago, he turned the company into an industry profit leader--only to see the bottom fall out when the United Steelworkers went on strike over pensions last October. That was seven months ago, and now it's the longest steel strike ever, LaBow is demonized among the strikers, and the company is losing millions of dollars a month. The stock, which reached 193/4 three years ago, is down to 61/2.
But look closer and it's clear that the 61-year-old financier has done quite well for himself. He sold most of his WHX stock more than a year ago, before his tough labor stance helped drive down the stock (table). All told, LaBow has netted more than $86 million from his foray into steel, according to Securities & Exchange Commission filings. And LaBow, formerly an investment banker at the New York firm of Neuberger & Berman, continues to rake in his annual $5.5 million "consulting fee" from the steel company. "He's stripped himself of any real investment in the company," says USW President George Becker. LaBow declined to comment.
GOLDEN LIFEBOAT? This leaves the 4,500 striking steelworkers, mostly in Wheeling, W.Va., but also in Ohio and Pennsylvania, facing an adversary who has little to lose financially from the strike. LaBow is even considering liquidation, say sources close to the company. So the USW is appealing to WHX Corp. investors, hoping to convince them through a mailing campaign that the captain of their ship has departed in his own richly furnished lifeboat, leaving them all to sink under his tough labor policy. By rejecting their demand for the standard industry pension plan, they say, LaBow is driving the ninth-largest integrated steel company toward ruin.
So far, major stockholders aren't buying that line. Rather, they agree that Wheeling Pitt needs low pension costs and job cuts to compete against low-cost, nonunion minimills. So even as the stock falls, large institutional investors have been buying. In March, the leading holder, Dewey Square Investors in Boston, reported adding nearly 400,000 shares to its 10% stake. "On a price basis, it's a raging buy," says one investor.
LaBow's labor woes stem from the special deal he got when he led Wheeling Pitt out of bankruptcy in 1989. He was prohibited by law from reinstituting the traditional pension plan that had required a government bailout four years earlier. This suited him fine. He offered a cheaper defined contribution plan, saving tens of millions of dollars.
The pension deal helped put Wheeling Pitt back on its feet. As it recovered, LaBow raised $400 million in three stock offerings and spent $69 million on modernization. He penned a profitable steel-coating joint venture with Japan's Nisshin Steel. And by purchasing three small steel-consuming businesses, he positioned the company in a widely applauded "downstream" strategy that permits Wheeling Pitt to add more value to its metal. In 1994, its best year, operating margins hit $39 a ton, third-best in the industry.
NO-SHOW. While the good times rolled, LaBow and partners sold most of their stake. At the same time, he launched a $1.7 billion hostile takeover bid for California-based Teledyne Inc. in 1994. LaBow hoped to use its overfunded pension plan to pay for a traditional package at Wheeling Pitt. But Teledyne rebuffed LaBow, finally hitching up a year ago with Allegheny Ludlum Corp. in a $3.2 billion deal.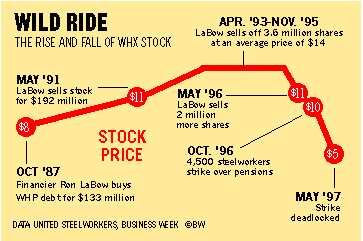 Since the strike began, the union has insisted that LaBow spend a chunk of the company's $400 million cash stockpile for pensions. He has resisted, warning that with higher costs and less cash, Wheeling Pitt could succumb during the next recession.
The standoff doesn't seem likely to end soon. Senator John D. Rockefeller IV (D-W.Va.) tried to broker an agreement. But at the last meeting, in mid- April, LaBow didn't show up and his representatives withdrew early. "We're dealing with a madman," complains one USW official. That's an image that might suit LaBow's agenda. By showing his willingness to liquidate the company, he's hoping to ratchet down union demands, insiders say. If he succeeds, LaBow may decide that his company's stock is once again a good buy.
Before it's here, it's on the Bloomberg Terminal.
LEARN MORE