On Apr. 25, when Vitech America (VTCH) posted better-than-expected first-quarter earnings (up 72% from a year earlier), the stock, trading at around 10, hardly budged. It reached 153/8 in late February but has since been on a downswing, mainly because of short-sellers, who were convinced Vitech would be unable to finance the fast-growing demand for the computers and networking equipment that it makes and sells in Brazil. But by early May, shares of Vitech rebounded to 12.
One reason: Some bears started buying to cover their short positions after getting signals that Miami's Vitech may be able to secure the financing after all. One pro says a well-known investment bank has set up a receivables-based credit line of $50 million. "With a market growing at 30% a year, the new funds will support Vitech's growing consumer-financing program," he says.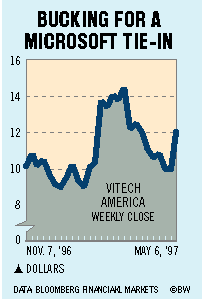 Another plus: Vitech is expected to form a pact with Microsoft, licensing Vitech to bundle Microsoft software with its Vitech Vision PCs. "Microsoft's leading-edge software in Portuguese--combined with our countrywide service network--makes our computers a compelling buy," says Vitech President William St. Laurent.
Vitech sells directly to customers and has "a profitable niche in the world's fastest-growing computer market," notes analyst Steve Loewengart of H.J. Meyers, a New York investment firm. With 2.5% of the Brazilian market, Vitech aims to boost its share to 8% over the next 5 years. His 12-month target for the stock: 18. Revenues--$73 million last year--are expected to grow 50% this year. He sees Vitech, which earned 94 cents a share in 1996, to make $1.12 in 1997.
Before it's here, it's on the Bloomberg Terminal.
LEARN MORE