U.S.: Are Hot Labor Markets Cooling Off?
If not, further Fed rate hikes may sour Wall Street's new optimism
by
That steam rising from the economy is coming from the labor markets. They are really cooking. At 4.9%, joblessness is now at a 23-year low. A record percentage of adults have jobs, and real wages are moving up, even at the lower end of the pay scale.
A few months ago, news like this would have sent Wall Street running for cover, out of fear that tight labor markets--fueled by the economy's blistering 4.7% pace over the past two quarters--would force the Federal Reserve to hike short-term interest rates in order to assure that inflation stayed tame. Instead, bonds have rallied, and the stock market has forgotten all its winter worries that had sent share prices tumbling nearly 10%. In fact, the Dow Jones industrial average hit 7225 on May 6, a new record.
Why this new round of exuberance? The data show that, despite tight job markets, labor costs remain under control. Also, there are emerging signs that the hot economy is cooling down, although the degree of the slowdown is still unclear. For example, the April job report shows that job growth is easing, but factory workers clocked in a record amount of overtime (charts). Nevertheless, all this eases two of the financial markets' fears: that the Fed is behind in its efforts to control inflation and that further substantial rate hikes may be necessary.
Also, the markets are pleased that the White House and Congress have brokered a deal to balance the federal budget. Never mind that over the next five years, the tax cuts are front-loaded, the spending cuts are back-loaded, and recession is assumed to be nowhere in sight. Still, after haranguing both parties for years to balance the budget, Fed Chairman Alan Greenspan may be reluctant to lift rates again so quickly after a compromise was finally reached.
PERHAPS MORE IMPORTANT, Wall Street seems to be flirting with the notion that a new economic paradigm is at work, one in which strong growth and low inflation can coexist peacefully enough in coming quarters to keep the Fed from spoiling the party. The continued lack of pressure from labor costs on inflation strengthens that thesis compared to a year ago, but the real test now begins: Can businesses keep costs down and profits up, amid ever-tightening labor markets in which joblessness is already well below nearly all definitions of "full employment"?
Indeed, the head-turner in the April job report was the drop in the unemployment rate from 5.2% to 4.9%. The large fall partly reflected a decline in the labor force, which was bound to happen sooner or later since yearly labor-force growth has outpaced the growth in the adult population since the summer of 1996. Now in 1997, labor-force growth may be starting to slow down, which could push the jobless rate even lower. In fact, if labor-force participation had not soared, the jobless rate would have been below 4.5% right now.
The low unemployment rate has reignited discussions over NAIRU, or the nonaccelerating-inflation rate of unemployment, below which wages rise fast enough to generate price increases. While the debate centers on whether the economy's NAIRU has shifted lower and to what level, Greenspan himself has said that there is no national NAIRU, but only local ones. However, with more than a third of U.S. cities reporting jobless rates below 4% in March, it's no surprise that yearly pay gains are accelerating.
True, hourly wages dropped by a penny in April, to $12.14. But the decline was concentrated in a 0.8% fall in wages in the financial and real estate sector. And that drop followed two large gains in January and February. So far this year, nonfarm pay of production and nonsupervisory workers is up 3.8% from the same four months of last year. After inflation, that's a 1% gain, the fastest real wage growth since 1983.
WALL STREET WILL NOT take chances waiting to see how any new economic paradigm plays out. Indeed, the Dow plunged 140 points on May 7, in part because a Fed report prepared for the May 20 policy meeting noted that tight labor markets are lifting labor costs and that in some areas, businesses are finding less price resistance amid strong consumer demand.
In coming months, the markets will take their cues primarily from the economy's pace and what it implies for the inflation outlook. On that front, early second-quarter data show that growth is slackening. However, some slowdown this quarter was inevitable after the first quarter's 5.6% gallop. What's not clear is how much is growth tapering off and how long any slowdown will last.
ON THAT ISSUE, the latest data are a mixed bag and not very helpful. March factory orders declined, and the nation's purchasing managers said that industrial activity slowed a bit in April, but the labor market data suggested that manufacturing is gathering steam. The second-quarter trend may not be clear until the May data offer more evidence.
The April job report showed a slower pace of payroll gains. April payrolls increased by a less-than-expected 142,000 jobs, and March's gains were lowered to 139,000. The April rise was well below the monthly average of 237,000 in the first quarter, and the nonfarm workweek shrank 18 minutes to 34.6 hours.
Some of the weakness in April hiring reflected special factors. The month's rainy weather helped trim construction jobs by 44,000. And factory jobs fell 14,000, but most of that came from the strike at Chrysler Corp., which pared a half hour from that industry's workweek.
But manufacturing still has momentum. Even against the auto-sector drag, the overall factory workweek rose by six minutes, to 42.2 hours, matching the record high hit in January, 1995. Moreover, factory overtime rose to a record 5 hours. Extra worktime suggests that industrial output continued to rise last month, and that capacity utilization rates rose further. Operating rates are near levels that, in the past, have been associated with supply bottlenecks and price pressures.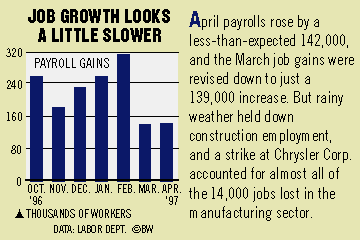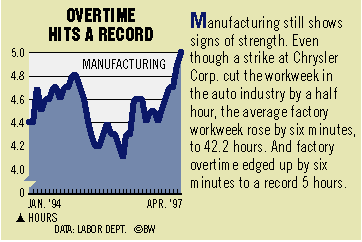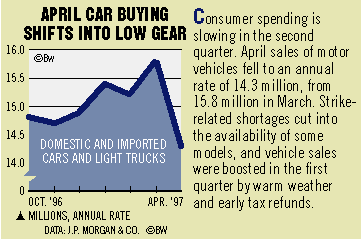 Consumers will play a key role this quarter and next. To be sure, they will not be able to maintain their blistering 6.4% pace in the first quarter, which was fueled partly by warm weather and early tax refunds. Already, weekly store surveys suggest a more moderate pace of buying, and April car sales fell to an annual rate of 14.3 million from 15.8 million in March, although strike-related shortages cut into dealers' results (chart).
However, amid strong labor markets, high levels of optimism, and a resurgence of stock-market gains, household fundamentals are still as supportive as they ever were. That means consumers could head back to car dealerships and shopping malls in coming months. If they do, the Fed's worries about overly strong demand will resurface--and Wall Street's renewed exuberance could start to look irrational again.
Before it's here, it's on the Bloomberg Terminal.
LEARN MORE