The Divine Right Of Media Moguls
Is Robertson's deal with Murdoch unfair to other investors?
Elizabeth Lesly
As a man of the cloth, the Reverend M.G. "Pat" Robertson is well versed in age-old admonitions not to kill, steal, or worship graven images.
But as chairman of International Family Entertainment Inc. (IFE), Robertson apparently has little reverence for the golden rule of corporate governance: Thou shalt not cut yourself a better deal than the rest of the shareholders.
Robertson is close to a deal to sell IFE to Rupert Murdoch's News Corp. for about $1.4 billion, industry sources say. But a key condition is apparently that Robertson receive a hefty premium for his shares over what public shareholders will receive. Murdoch is after IFE's Family Channel, which can be seen in nearly 69 million U.S. homes and would provide a perfect vehicle for a planned Fox Kids Network.
RAISING HELL. Robertson, a onetime presidential candidate, and his son, IFE President Timothy B. Robertson, together control all of the company's Class A shares, which carry 10 times the voting power of the publicly traded Class B shares. As the deal with News Corp. stood a few weeks ago, says a source familiar with the agreement, the Robertsons stood eventually to receive nearly $400 million, or nearly $80 per share, and News Corp. would also have bought the 23% of Class B shares held by Tele-Communications Inc.'s Liberty Media Corp. Holders of the remaining Class B shares, which climbed from 15 to 21 as rumors of a deal spread, would have gotten nothing.
But media investor Gordon Crawford, whose funds own about 15% of the Class B shares, raised hell over the deal, say other IFE institutional shareholders. Now, the terms will include all shareholders, but the Robertsons will still come out way ahead. They will get around $40 a share, or $200 million, in a deal structured to pay them two or three years from now, while Class B shareholders will immediately get about $26 or $27 a share, sources say. Despite investor unhappiness over the Robertsons' premium, "it sounds like it's going to get done to us, regardless," says Ann M. Miletti of Strong Capital Management Inc., among the largest Class B shareholders.
While investors seem resigned, the Robertsons' sweetened deal appears to flout a promise made in IFE's certificate of incorporation, which says: "In the event of a merger or consolidation [all classes of shareholders] shall be entitled to receive the same per share consideration." The clash between this guarantee and the terms of the proposed transaction apparently has been holding up completion of the deal, and IFE may find some way to structure the deal that does not run afoul of the precise wording of the guarantee. Robertson may be hoping a price for Class B shares of $26 or $27 a share, more than a 20% premium over their current value, will buy other shareholders' acquiescence. Still, "that's a shareholder lawsuit waiting to happen," says corporate governance expert Nell Minow of the Lens Fund. While IFE declined to comment on the deal, Robertson said in a statement that "IFE is aware of its obligations under the securities laws and its certificate of incorporation...and will act at all times in compliance therewith."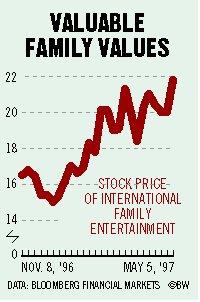 Robertson's gambit places him squarely among other media executives who have used their supervoting shares to cut themselves rich deals. TCI Chairman John C. Malone did so when he agreed to sell TCI to Bell Atlantic Corp. in 1993. The deal later fell apart. Jones Intercable Inc. CEO Glenn R. Jones left public shareholders out of the action entirely when he sold shares to Bell Canada for about $26 each in 1994. Bell Canada also paid Jones $54 million for an option to buy his supervoting shares at a later date. Today, Jones trades at about 9.
Investors may be growing impatient with such transactions. "If companies don't treat shareholders the same, they'll have a tough time raising capital," says Chuck McQuaid of Wanger Asset Management, another IFE shareholder. "If we can't trust management, we're not going to invest with them again."
Strong words. But faced with deals like the one in the works at IFE, investors can be forgiven their disenchantment.
Before it's here, it's on the Bloomberg Terminal.
LEARN MORE