business
Making Beautiful Software Together?
By
When Rational Software (RATL) announced on Apr. 7 it had agreed to acquire Pure Atria (PASW), shares of both companies plunged: Rational dropped 42%, to 13, and Pure Atria crashed 44%, to 73/4. A spooky reaction: What was bugging the Street?
Analysts didn't see the wisdom in combining the two largest players in software-development tools--used by software writers to design new computer programs. So says Paul Cleveland, a managing director at San Francisco investment firm Hambrecht & Quist, who helped put the deal together. Analysts think that market-leader Rational--whose stock traded at 44 in early November--had no need to acquire the No.2. Pure Atria, whose stock hit a high of 41 in mid-1996, made the deal look even worse when it announced that its first-quarter earnings would be less than expected.
Also helping depress the stock, notes Cleveland, is the reluctance of many arbitrageurs to trade merger deals involving small-cap technology companies. But investors who aped the momentum players in dumping the shares "have provided a terrific window for value players like us to get into both stocks at tremendous bargain prices," says a San Francisco money manager. By May 6, Rational had crept up to 153/4 and Pure Atria to 111/4.
The merger deal, in which a Pure Atria shareholder gets 0.9 Rational shares for each Pure Atria share, will leave Rational shareholders owning 54% of the combined company and Pure Atria shareholders with 46%.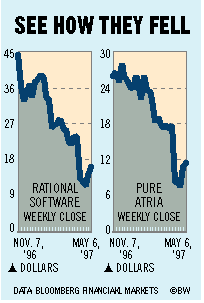 Backers of the deal figure Pure Atria should be up to 141/2 at least, based on the merger's formula. And upon closing of the deal, they reckon the merged companies' stock--given their current prices--should rise to 40.
H&Q's Cleveland thinks that Rational and Pure Atria, combined, will be a powerhouse. Their products are complementary and don't overlap much, he adds. Already, Rational is in a strategic pact with Microsoft to supply an introductory version of its "Rational Rose" development tool to users of Microsoft. And Pure Atria and Microsoft have agreed to develop jointly an enhanced debugging interface for Java applications.
Before it's here, it's on the Bloomberg Terminal.
LEARN MORE