Has Tokyo Got The Bears On The Run?
The Nikkei's sudden upturn may herald more robust growth
by
Is it just a blip, or is it the real thing? That's what global investors are wondering about the startling recovery of the Tokyo Stock Exchange.
After a blowout that stretched from fall until early April, the Nikkei stock average broached 20,000 for the first time in five months and is now up 4% for the year (chart). True, that's mild stuff compared with the rip-roaring rebound on Wall Street. And few market pros think Tokyo's bear market, now in its eighth year, is over. Yet the comeback may signal that pundits have been too pessimistic about the impact of a new round of budget-cutting and a 2% hike in the national sales tax in April. Low interest rates are helping banks claw their way back to health, while a cheaper yen is pumping up exports. "People were expecting 1% growth in 1997, but now it's increasingly absurd to forecast less than 2%," figures J.P. Morgan & Co. economist Jesper Koll.
It was fears of sluggish growth that sent foreign investors heading for the exits last fall, triggering a rout that by Jan. 10 had shaved 23% off the market capitalization of the Nikkei's 225 leading companies from last year's highs. But now, the foreigners are returning. U.S. and European institutional investors and mutual funds snapped up $1 billion in Japanese stocks in April and may buy more than twice that amount in May.
SANGUINE. One big reason for the mood shift: Following the latest meeting of the Group of Seven industrial countries' finance ministers on Apr. 27, Washington and Tokyo seem keen on preventing the yen from depreciating much further. With the yen already down 36% against the dollar since 1995, worries over a bigger decline had turned off global investors, who were worried about currency losses.
Investors are also taking a more sanguine view of Japanese consumer spending. Domestic auto sales fell 12% in April. But department-store and supermarket revenues were about even with last year--possible signs that consumer spending won't fall markedly in 1997.
Despite the improved atmosphere, it's far from clear that stocks are in a sustained rally. The runup owes much to seasonal buying by Japanese pension funds kicking off the fiscal year that started Apr. 1. And corporate earnings are hardly robust across the board. Salomon Brothers Inc. sees profits for big exporters and manufacturers rising 8% in the year ending next March. But banks, retailers, and other domestic companies may see earnings decline 1%.
The divergent profit paths are prompting the pros to stick to efficient, global brand-name companies or to domestic outfits that have embarked on serious restructuring. Some of these stocks are already selling at lofty levels. Toyota Motor Corp.'s sales of Lexus and Camry sedans are booming in the U.S. That explains why Toyota is trading at an all-time high of 3,940 yen, or $63 per American depositary receipt--50 times estimated earnings for the year ended Mar. 30. The share price of Toyota's 24%-owned affiliate, Denso Corp., whose sales of automotive electrical components are booming, has skyrocketed 52% amid estimates that its profits tripled in the last fiscal year. And Sony Corp., which is living high off the big profits from its PlayStation game machines, fetches a price-earnings ratio of 70.
DARING. Not every multinational is out of reach. UBS Securities Ltd. strategist Neil Rogers thinks Nissan Motor Co.'s intensive cost-cutting and its eight product launches scheduled this year at home could boost earnings sharply. Another favorite is NEC Corp. UBS expects its profits to jump 50% this year as Korean rivals cut memory-chip output.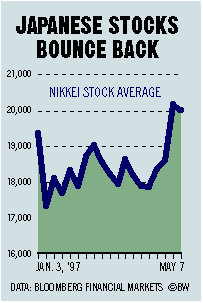 For the more daring, even some financial stocks may be worth a look. Deutsche Morgan Grenfell banking analyst Paul Heaton thinks Toyo Trust & Banking Co. and Yasuda Trust & Banking Co. could be winners. Although they're still saddled with bad debts, both have ample capital and strong positions in pension-fund management and real estate brokerage, which generate 30% of their earnings.
Such upbeat assessments are still falling on deaf ears in Japan--except for the pension funds. Most domestic investors continue to steer clear of stocks. Until they join in, it will be tough for the Nikkei to reach 25,000. Still, even Tokyo's gloom merchants are starting to lighten up. The Tokyo Stock Exchange has been home to several false dawns this decade, but plenty of foreigners, at least, are betting once again that morning has arrived.
Before it's here, it's on the Bloomberg Terminal.
LEARN MORE