business
Germany: Exports Will Have To Carry The Show For Now
By
Powered by exports, Germany's one-cylinder economy continues to sputter along, but the groundwork for a broader upturn is being laid. Through February, exports are up nearly 8% from a year ago, and foreign orders in March are up an even faster 11%, suggesting that export growth is still accelerating.
Indeed, the export boom's supports are solid. First of all, Germany's key export markets are strong. Last year, foreign shipments to the U.S. and to Eastern Europe, Russia, and the former Soviet Republics posted the fastest growth. The primary markets in the European Union, which account for more than half of Germany's foreign demand, have been sluggish, but this year, EU demand is also set to pick up, as better growth prospects take hold.
Second, Germany's competitiveness has improved. The trade-weighted value of the mark has fallen some 6% since early 1996, mainly reflecting a 17% plunge vs. the dollar. And the recent strength in the Italian lira will give Germany an added edge in Europe. Moreover, German productivity growth in the factory sector has improved at a time when wage deals are expected to hold growth in contractual wages to only about 1% this year. That means factory unit labor costs will fall in 1997.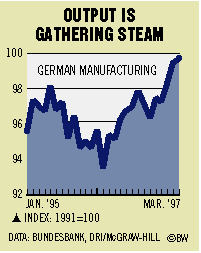 A key link to a broader recovery will be stronger capital spending, and fundamentals there look promising: Real interest rates are now the lowest in more than a decade. Because industrial output is rising strongly (chart), the factory operating rate stood at nearly 85% in March, well above its long-term trend. Also, efficiency gains have boosted corporate profits.
But both corporate and fiscal belt-tightening have hit households hard, resulting in negligible growth in real disposable income over the past year. Unemployment in April rose unexpectedly, by 8,000, and the jobless rate, at 11.3%, stood at a record for April. Job growth is not expected to pick up until later this year, and only then will Germany be truly on the road to recovery.
Before it's here, it's on the Bloomberg Terminal.
LEARN MORE