business
Free Trade Was Supposed To Be Easy
Donorgate and NAFTA woes erode support for Clinton's goals
Paul Magnusson
Representative Nathan Deal (R-Ga.) voted for the North American Free Trade Agreement in 1993 after winning assurances that it wouldn't produce a flood of cheap textile imports. But now, as constituents complain that Mexican illegals are displacing American workers in his district's textile plants, and as more Chinese textiles are smuggled across the southern U.S. border, Deal is having second thoughts. He's actually co-sponsoring legislation to roll back NAFTA unless it starts fulfilling some of its early promises.
The Clinton Administration still may be counting on his vote and others for expanding free trade, "but that's not a good assumption to make," says Deal. In both houses of Congress and on both sides of the aisle, support for furthering free trade has plummeted. And Clinton faces a fight just to preserve the gains he made in his first term.
CHINA SKIRMISH. NAFTA fallout is one problem. Another is Donorgate. The widening scandal has killed any hopes the Administration had of securing permanent most-favored-nation trading status for China this year. Instead, House Speaker Newt Gingrich (R-Ga.) wants to give China a six-month extension of its privileges--half the usual term--conditioned on an orderly transfer when China assumes control of Hong Kong on July 1. Even House Majority Leader Richard K. Armey, an inveterate free trader, is leaning toward such a sanction: "It might be a good thing for the Chinese to come to terms" with the likelihood of a vote revoking their trade status, he says.
The President has promised to veto Gingrich's legislation. But another White House priority for 1997--completing negotiations for China to gain entry into the World Trade Organization--is likely to be pushed off indefinitely. A similar fate awaits Clinton's proposal to negotiate a free-trade zone for the entire Western Hemisphere by 2005 and another among members of the Asian-Pacific Economic Cooperation forum by 2010.
Formal talks on either pact can't even begin until Clinton gets negotiating authority from Congress. But that's a tough sell, since legislators fear the kind of fallout that Deal's district experienced after NAFTA if free-trade agreements extend to other developing nations. "We don't need to base our standard of living on the misery of others, here or abroad," says Carrie P. Meek (D-Fla.).
Expanding free trade wasn't supposed to be this hard. Rising exports have generated more than a third of U.S. growth in the past decade, creating 1 of every 8 net new jobs between 1992 and 1996. That has helped build congressional support for free trade.
WOOING LIBERALS. But America's growing trade deficit (chart) also demonstrates that free trade can mean an increase in job-killing imports. The balance of merchandise trade with Mexico tipped from a slight surplus before NAFTA to a record $16 billion deficit last year, producing a theoretical loss of 224,000 American jobs. Such reports have soured Capitol Hill to the point where the White House hasn't even drafted a bill renewing the President's authority to negotiate trade deals. A key problem: The number of Democrats who will support the legislation has shrunk below 90--the minimum that GOP leaders say will be needed for passage.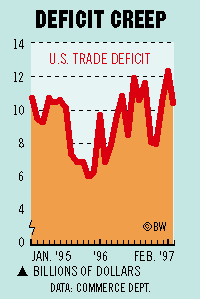 To win more support, the White House may have to woo liberal Democrats whose allies among environmentalists and organized labor are adamantly opposed to NAFTA expansion. Many Democrats want clauses in any agreement to prohibit trading partners from exploiting workers or the environment. But such conditions will meet stiff opposition from Republicans who fear inviting trade barriers to U.S. exports.
Time may run out for reauthorizing Presidential trade negotiating authority this year. Debates on the budget and MFN renewal for China could extend through summer. And Japan's growing trade surplus, abetted by a strong dollar, could fan protectionist fears. Then there are the 1998 elections--hardly the time for bold trade legislation. Small wonder the chill on the Hill is being felt from China to Chile.
Before it's here, it's on the Bloomberg Terminal.
LEARN MORE