Another Nail In The Coffin Of Insider Trading
A German crackdown may perk up enforcement in Europe
David Woodruff
For years, insider trading has been winked at in Europe. Weak laws and toothless watchdogs allowed corporate insiders to profit freely from privileged information. Celebrated cases have implicated top government officials as well as corporate board members, from Britain to Italy.
Now, however, a crackdown in Germany may indicate the tide is turning. Prosecutors in Frankfurt are hot on the trail of up to 100 insiders who last October may have illegally traded shares in SAP, the high-flying, $2.3 billion software company. SAP has become a big player in the global software game, and its shares are widely held outside Germany. That makes the SAP case the most visible since Germany made insider trading illegal in 1994. And it gives the nation's young securities oversight agency a chance to prove it is serious about enforcing tough legal and ethical standards. Investors are optimistic that the agency will deliver. "They've quickly become very professional," says Klaus Kessler, a Stuttgart lawyer and official of the Protection of Small Shareholders Assn.
NAMING NAMES. With Germany taking the lead, other European countries are likely to follow. The incentive to protect ordinary stock owners is growing as companies become savvier about raising capital in far-flung places and financial markets compete for new investors. Countries where enforcement has been especially lax, such as Britain, Italy, and Switzerland, will come under more pressure to crack down on questionable trading.
Suspicion of dirty dealing arose in October. The week before the company announced that 1996 earnings would fall short of a targeted 40% increase, trading in SAP spiked to 10 times the typical daily volume. On Oct. 23, when the announcement was actually made, the stock price skidded 23% (chart).
Sleuths at the federal supervisory office for securities trading in Frankfurt swung into action. They gathered names of individuals who sold shares or purchased put options before the announcement. Then, in January, they requested from SAP a list of insiders who knew about the altered earnings projection. The company handed over 71 names, including members of the company's management and supervisory boards. Some matched, although no names have been made public. The case is now in the hands of Frankfurt prosecutors, who expect the full investigation to last a year.
SAP Chairman Bernd Thiemann and Chief Executive Dietmar Hopp faced angry questions about the scandal from shareholders at SAP's May 7 annual meeting. Thiemann said all 13 members of the company's supervisory board and eight managing directors signed statements swearing they had never engaged in inside trading. But officials at the securities oversight agency refused to confirm that investigators had cleared them.
FAST START. Company officials say they're mulling steps to ensure that such cases don't recur. CEO Hopp says one probable move will be to ban executives and directors from trading during sensitive periods. Other German companies will closely watch SAP's response. As one of the 30 names that make up the DAX stock index and one often cited by Chancellor Helmut Kohl as a showcase German company, SAP wields considerable influence.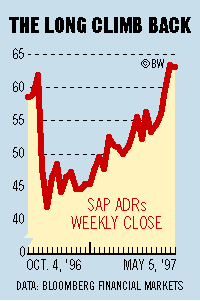 When it comes to securities law, Germany still lags behind the U.S. Investigators at the securities oversight agency have no police powers and can't seize evidence, as the U.S. Securities & Exchange Commission can. Nor can it pass judgment or assess fines. Cases are passed to local prosecutors, who handle criminal investigations. When individuals are found guilty, names usually remain secret, and they are not banned from trading.
Still, Germany's watchdogs are off to a fast start. Since its inception two years ago, the oversight agency has handled 105 investigations and turned 35 cases over to prosecutors. Seven resulted in convictions for insider trading, and 22 are still pending. In a recent conviction, an executive at Weru, a windows and doors maker, received a $2.6 million fine; $2 million was suspended. That's progress in a nation where two years ago most people had never heard of insider trading--and those who engaged in it got off scot-free.