Airlines Battle Over Argentina, Brazil, Chile, Venezuela...
U.S. carriers are in a dogfight over lucrative Latin alliances
Wendy Zellner
At first glance, Aerolneas Argentinas doesn't seem like much of a prize. The ailing airline is near financial collapse, with poor service, strained labor relations, and a plummeting market share. But the Argentine flag carrier has attracted two ardent suitors: American Airlines Inc. and Continental Airlines Inc. What the U.S. rivals see in Aerolneas is a strategic anchor at the hemisphere's southern tip for their growing regional networks.
Aerolneas is just the latest Latin carrier swept up in a flurry of alliances with U.S. airlines. Their goal is to get even bigger in the lucrative Latin market (chart), where passenger traffic is growing as much as 20% a year in some countries. The key to success: Seamless service from, say, Ribeiro Preto, Brazil, to Cleveland. Through reservation code-sharing, partner airlines are offering one ticket and coordinated schedules and baggage handling. "This is a network business," says American's CEO, Robert L. Crandall. "The network grows as it is able to reach its tentacles out to touch more and more cities."
The fastest-growing tentacles are American's. It already carries 64% of U.S. flag traffic between the U.S. and Latin America, and its $2.4 billion in revenues from the region last year accounted for more than half of its foreign sales. Just in the past 12 months, American has struck alliances with Brazil's Transportes Aereos Meridionais (TAM), Colombia's Avianca, Central America's TACA Group, and Paraguayan carrier Transportes Aereos del Mercosur. "American sees it has achieved a position in Latin America that it would like to lock in," says Cyril D. Murphy, a vice-president at United Airlines Inc., which recently signed a deal with Brazil's Varig.
Now, American has squared off against Continental in a bidding match for an equity stake in Aerolneas Argentinas. Continental and its partners, including Texas financier David Bonderman, are believed to be seeking as much as a 70% equity share. The key prospective seller is a group headed by Merrill Lynch & Co. It bought 63% of Aerolneas, worth an estimated $300 million, from Spain's state-owned Iberia airline after Iberia was ordered by the European Commission to divest its controlling stake. Iberia still owns 20%, with the Argentine government and Aerolneas employees among other shareholders.
While American hasn't indicated how large an interest it wants, its move to forge yet another Latin alliance has set off a chorus of protests from rivals. They are still reeling from American's effort to link up with giant British Airways PLC on transatlantic routes. Like the British alliance, though, American's Latin tieups face stiff antitrust scrutiny at the U.S. Transportation and Justice Depts. Together, Aerolneas and American currently hold three-fourths of nonstop seats between the U.S. and Argentina. Such a combination, Continental CEO Gordon M. Bethune figures, would never pass muster with Washington trustbusters. "When you put those two guys together, it's all over," says Bethune. "It's something like American-British Airways, only worse."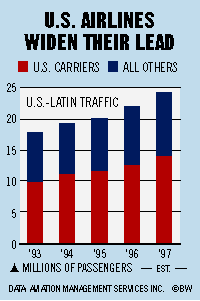 DANCE, PARTNER. Meanwhile, Continental, United, and Delta Air Lines are expanding their own reaches in the region. Continental will soon fly to So Paulo and Rio de Janeiro from its hub in Newark, N.J., and it has applied for authority to fly from Newark to Santiago, Chile. With an already strong Mexican network, "they're going to start to eat into American's dominance down there," says Jon F. Ash, managing director of Global Aviation Associates Ltd.
Given the growing role of the U.S. giants, most Latin carriers have little choice but to embrace them. Gustavo Alberto Lenis, president of Colombia's Avianca, says he's looking to link up with other international airlines besides American. And LanChile Airlines expects to ink a deal with American or United within the next several months. The profitable Chilean carrier fears tougher competition should a U.S. airline rejuvenate Aerolneas in neighboring Argentina. In this game of musical chairs, few can afford to be left without a partner.
Before it's here, it's on the Bloomberg Terminal.
LEARN MORE