3 Com: One David Taking On Two Goliaths
It wages a war on two fronts with Intel and Cisco
by
When Eric A. Benhamou was tapped to run 3Com Corp. in 1990, the network-equipment maker was in deep trouble, racking up a $27.7 million loss for the year. So Benhamou took his top 10 managers for a week of hiking and brainstorming in the Sierras. "We developed an image of having to cross a desert," the 41-year-old CEO says. Three years later, with 3Com back on track, the same group went to Israel for a week--and marked its success by crossing a real desert.
Now Benhamou, a soft-spoken, Algerian-born engineer, is once again traversing rough terrain. This time he must not only flawlessly merge 3Com and modem king U.S. Robotics Corp.--a move now under attack from some shareholders--but fend off fresh competition from the likes of computer chipmaker Intel Corp.
Can Benhamou do it? On June 11, he will have to convince wary shareholders that his Santa Clara, Calif., company's bid to buy Skokie, Ill.-based U.S. Robotics is a good idea. His reasoning: Melding the two companies will create a $5 billion networking powerhouse with a product line so broad that customers will flock to 3Com for one-stop shopping.
NUISANCES. But some investors question whether Benhamou can stitch together two companies located halfway across the country from one another. Although 3Com's stock has recently recovered, it's still down 8.8%, to $36, since the deal was announced on Feb. 26. U.S. Robotics shares are flat over the same period, and the value of the stock-swap merger has fallen from $7.35 billion to $6.71 billion. That has prompted U.S. Robotics' shareholders to file six class actions, claiming the merger undervalues their stock. 3Com and U.S. Robotics execs dismiss the suits as nuisance claims, and analysts doubt they will stop the merger.
Even if Benhamou gets the deal approved without a hitch, 3Com still faces hefty challenges--especially from Intel. On Feb. 5, Intel dropped prices on its networking cards 40%, spurring 3Com to match the cuts. While 3Com's response may have helped it keep the No.1 spot in that sector--a 42.2% share last year, vs. Intel's 11.2%--it also cut into profit margins. 3Com reported disappointing quarterly earnings on Mar. 20 of $87.6 million, up 17% over a year ago, but still below expectations.
Now Intel is trying to make networking cheaper still. On Apr. 21, it unveiled a chip that shrinks a networking card onto a single sliver of silicon. That would allow PC makers to build networking connections directly into PCs instead of installing cards from 3Com and others. Thanks to a new generation of fast chips, Intel expects that 20% of all PCs will include networking chips over the next few years, up from 5% today. 3Com says it will deliver its own chip at the same time as Intel--in late 1997.
While fighting off Intel on one front, Benhamou also is bulking up to combat its strongest rival, Cisco Inc. His strategy: pump out new technologies that surround--and steal work from--Cisco's products, such as routers and switches that operate at the center of corporate networks and the Internet. 3Com dominates products that work at the periphery, such as network cards and equipment for linking together groups of PCs. With U.S. Robotics, 3Com would add consumer modems to that lineup, as well as huge modem banks used by Net providers.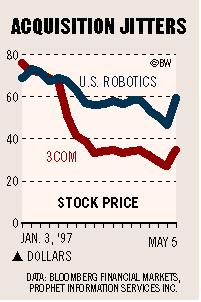 With sovereignty over the edge of the network, 3Com plans to add software to its products that will allow them--not Cisco routers--to control data traffic. IBM and Cascade Communications Corp. have signed on to support 3Com's approach. "It's a surround-and-conquer strategy--not a frontal assault on Cisco," says Cascade President Daniel E. Smith. Another boost for 3Com's prospects: The areas where it and U.S. Robotics are strongest--remote access and network devices for small businesses and consumers--are growing at twice the rate of Cisco's chief markets. 3Com revenues for the fiscal year ending May 31 are expected to hit $3.14 billion, up 35% from 1996, with earnings more than doubling, to $381 million.
With so many new products to manage and a merger to close, Benhamou decided this year to head to nearby Carmel for the annual strategy retreat. He's hoping desert crossings are a thing of the past.
Before it's here, it's on the Bloomberg Terminal.
LEARN MORE