business
Yearning For Calvins, Cokes And Connections
Bowling balls glowing in fluorescent colors whiz down shiny lanes, past automatic pin sweepers emblazoned with Coca-Cola and Brunswick logos. "American Pie" blares out above the crash of falling pins as players enter their strikes and spares into a computerized scoring system.
Welcome to the Saigon Superbowl. Until a few months ago, most here had never even seen bowling. Now, especially on weekends, young Vietnamese fill up the 32-lane alley. "At first, it was hard for most people to hold the ball, but they're getting used to it," says supervisor Dang Quoc Hung. "Now, they can bowl very good." Nguyen Thanh Ngon, 21, a university student, is delighted that this arcade-- a Vietnamese-Singaporean joint venture that opened last June--has come to Ho Chi Minh City. "It brings us a little closer to the rest of the world," he says.
FORGOTTEN STORIES. More than anything, joining the rest of the world is what the youth of Vietnam want to do. This postwar generation embraces economic openness and dwells for not a moment on the country's war-torn past. Everything from rap music to jobs with foreign companies is a happy link to the outside world. Young Vietnamese concentrate on their careers, on having a good time, and on cultivating American-style individualism. In fact, Vietnamese youth seem interested in everything American--except for democracy. This generation focuses on open markets, not open government. And that suits Vietnam's communist leaders, who want economic reform without political dissent. They're getting it.
In their race to the future, Vietnamese youth are ignoring the past. About 70% of the population is 25 or younger, with little memory of what is still called the American War. "The younger generation thinks of building a prosperous country," says Moin Dot Cheung, a tour guide at the War Remnants museum, which draws more American and French than Vietnamese. Many treat the war like ancient history. "My father told me a lot of stories, but I can't remember them anymore," says Pham Vu Tu Hung, 24, the manager of Cheers, a nightclub.
Ho Chi Minh City (which many still call Saigon) is filled with young people seeking their fortunes. Although Hanoi remains the government capital, Ho Chi Minh City is the country's dynamic commercial center. Nightclubs hum. Thousands of motor scooters buzz through the streets. In five years, the population has jumped a third, to 7 million.
"Saigon is on its way to being a modern city," says Ho Anh Toan, a waiter and student who moved here from central Vietnam. "The face of the people has changed, too. They are happier, and they are always busy with their jobs."
"MUCH TO LEARN." Many of those jobs are with foreign companies. In the past decade, foreign investment has climbed from almost nothing to nearly $23 billion. The U.S. ended its economic boycott of Vietnam three years ago, and now companies such as Phillip Morris, Ford, and General Electric have manufacturing facilities here. Many young Vietnamese study business and English to help them get jobs with foreign companies. "At the moment, we have much to learn from the West, from more advanced countries, about business," says Chau Tuan Phuong, an accounting student. He's putting himself through university by promoting Jose Cuervo tequila at bars and nightclubs.
He and others don't just want to work foreign, they want to buy foreign, too. Tieu Hong stocks her spandex-filled clothing store with U.S. garments. "I used to sell products from Hong Kong or Singapore, but now everyone wants American," says Tieu, dressed in orange velour. Those who can't afford such expensive fashions pick up ersatz Calvin Klein baseball caps and DKNY t-shirts.
Even the city's poorest youth hope to get rich. Says a 24-year-old who earns less than $4 per day driving a tricycle cab: "I'm young, I'm only beginning. I don't intend to be a cycle driver all my life." He hopes to start a small family business. His chances of economic success are best in Ho Chi Minh City, where the average per capita income is $1,000, as compared with $600 in Hanoi and $200 in the countryside.
Interestingly, it helps to be a well-connected communist to get ahead in capitalistic Vietnam. Hoang Tung, 24, whose father worked for the bureaucracy in Hanoi, had no trouble getting a job with Vietnam Airlines here. "There's more opportunity in the south--and more fun," says Hoang, toying with his cellular phone. Even jobs in foreign companies can depend on one's status in the communist hierarchy, given the number of joint ventures. "Connections are very important," says a business student whose father worked for the U.S. Army. "I guess I'm not properly connected."
NO QUESTIONING. With the freedom to pursue their careers and buy blue jeans and cell phones, young Vietnamese exhibit little interest in provoking their government. Officials know they can't clamp down too much on the western lifestyle, but they make it clear only so much freedom is allowed. Last year, the government closed many bars as part of a "social evils" campaign. "The West has an excessive lifestyle of drinking and smoking and films that are not healthy for young people. We need to limit all that," says Do-Thi Thanh Tam, 22, echoing government propaganda.
"What I see lacking in the youth now is the courage to challenge views, to challenge authorities, to question things around them," says Ng-Thi Minh Ngoc, a well-known novelist and actress. "They just accept what they see and what they read." She worries that youth have become too wrapped up in their own self-interests to pay attention to the country's problems, such as poverty.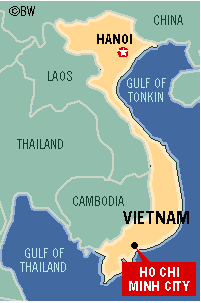 Others worry that this new generation will become divided--this time not between those in the north and south but between the haves and have-nots. At the Superbowl, university student Nguyen Thanh Ngon can only watch the action. "It's too expensive," he says. Indeed, it's apparent that Ho Chi Minh City's rich and successful youth are the ones jumping up and down with excitement when the ball crashes against the pins. Behind them gather groups of young people whose clothes are shoddier, their haircuts cheaper. From the joy on their faces, they appear content to be spectators--at least for now.
Before it's here, it's on the Bloomberg Terminal.
LEARN MORE