business
U.S.: Enjoy The Ride, But Keep Your Seat Belt Fastened
Labor costs will stay subdued only if the economy slows
By
Is this economy on a roll or what? In the first quarter, real gross domestic product grew at the fastest pace in nine years. But at the same time, labor costs rose only moderately, inflation remained low, and companies posted another quarter of strong profits, all helping to warm the hearts of nervous investors.
That's because the biggest surprise in the first quarter turned out to be not the economy's strength but the outright slowdown in labor costs amid all outward signs of a very tight job market (chart). In hindsight, that moderation explains why inflation remained subdued, and combined with strong demand, it explains the continued robust performance of profits.
The good news on labor costs also lowers the urgency for the Federal Reserve to hike interest rates at its May 20 policy meeting. That belief fueled a powerful rally on Wall Street on Apr. 29, pushing the benchmark 30-year bond yield down to below 7% for the first time since Mar. 26, and lifting the Dow Jones industrial average by 179 points, back to within striking distance of 7,000.
However, the way from here should carry that famous Wall Street disclaimer: Past performance is no guarantee of future success. For this happy economic mix to continue, a cooler economy is crucial. Just as the markets began to savor the report on labor costs, word came the next morning that the economy grew at an annual rate of 5.6% last quarter, on top of the fourth quarter's 3.8% pace. In order to avoid a pickup in labor costs and inflation later on, the economy must slow substantially from its hefty 4% clip over the past year, the fastest four-quarter growth since 1988.
ON THAT SCORE, THE LATEST DATA are far from conclusive. Consumers remained in high spirits at the start of the second quarter. In March, both new-home sales and durable goods orders fell, but home demand is still at a high level, and the trend in orders is still up. Moreover, the GDP report suggests that the economy's momentum in the second quarter is shifting from demand-led growth to production-led gains.
The GDP surge was fueled primarily by a 6.4% jump in consumer spending, which helped to lift overall demand at a 3.9% clip. Business outlays for new equipment and buildings also posted a solid gain, but government spending fell, pulled down by defense cuts. A sharp widening in the trade deficit subtracted almost two percentage points from economic growth, as surging imports overpowered a more moderate advance in exports. That means domestic demand, which takes import spending into account, spurted 5.6%.
To be sure, the pace of consumer spending will fall off this quarter. In fact, such factors as early tax refunds, unusually warm weather, and finance-industry bonuses probably lifted first-quarter spending at the expense of the second-quarter numbers. Already, initial April reports suggest softer car sales, and weekly retail-sales surveys show that shopping, while holding up, does not match its February and March gains. Also, housing demand is unlikely to rise in the face of higher mortgage rates, and the mild winter in some regions helped to boost residential construction by 5.5% last quarter, also borrowing from spring activity.
Still, consumer fundamentals remain solid. Since labor markets are strong, real disposable income grew 6.4% last quarter, matching the gain in spending. While the Conference Board's index of consumer confidence dipped to 116.8 in April from 118.5 in March, the level is still close to the expansion high of 118.9 hit in February.
BUT WHILE CONSUMER OUTLAYS will likely slow, overall GDP growth may be helped by inventory rebuilding, which appears to have already begun in the first quarter. Business inventories rose $46.1 billion last quarter, up from a $17.1 billion increase in the quarter before. That gain was much larger than expected. But during the past two quarters, inventories still have risen at an annual rate of only 2.7%, while overall demand has shot ahead at a 4.4% clip (chart).
The trend in factory orders suggests a forthcoming speedup in production. Even though durable goods orders fell 3% in March, their monthly pattern is volatile, and they had posted solid gains in January and February. For the quarter, bookings rose at an annual rate of 6.4% from the fourth quarter, three times faster than their fourth-quarter growth rate (chart).
The GDP report also showed tame inflation. Prices economywide grew at a 2.7% annual rate last quarter, up from 1.9% in the fourth quarter, but that jump reflects a quirk in the way imports are accounted for in the GDP price data. Prices for domestic purchases rose just 2.2%, down from 2.6% in the fourth quarter.
INFLATION'S SUBMISSIVE PERFORMANCE partly reflects the continued moderation of labor costs as measured by the Labor Dept.'s employment cost index. The ECI is considered a better gauge of what businesses are paying for labor, compared to the monthly data on nonfarm earnings, mainly because it includes benefits, and it covers more occupations.
The first-quarter ECI for civilian workers rose a much smaller-than-expected 0.6% from the fourth quarter. As suggested by the monthly earnings data, wages and salaries sped up, rising 0.9%, but benefits slowed sharply, up a mere 0.1%. Over the past year, total compensation increased 2.9%, the same gain as in the fourth quarter. Pay alone continued its upward creep, rising 3.3%, while benefits rose 2%.
Compensation growth appears to have bottomed out a year ago, but pressures are building only slowly. Wages are clearly accelerating. The 3.3% increase in both the fourth and first quarters was the biggest advance since the end of 1991. That speedup occurred even though the ECI report says that workers in professional specialty and technical jobs saw their raises drop to 2.7% from 3.1% in the first quarter of 1996. That slowdown runs counter to reports--including those from the Fed--that a shortage of skilled labor is lifting pay.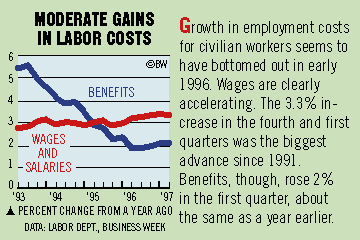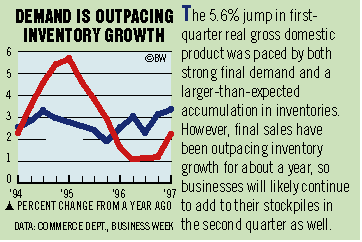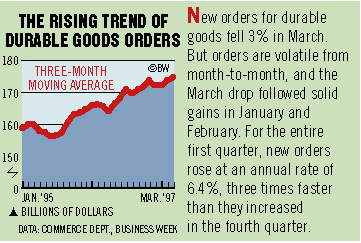 Labor costs slowed because of benefits. The continued moderation in the pace of benefits reflects two factors. First, state governments, especially in the south, have cut the tax rates on unemployment insurance and workers' compensation. Second, businesses continue to hold down their health-insurance costs. But the solutions may be to transfer more of the cost to employees through higher premiums and deductibles or, in the case of small companies, to simply drop the benefit.
The question is, how will businesses keep the lid on labor costs in an era of tight labor demand, especially since benefit costs have already been squeezed to the limit? One remedy is to cap job growth, but to do that the economy must slow. Right now, though, high consumer confidence, a large backlog of factory orders, and the need to rebuild inventories all suggest the economy still had some momentum at the start of the spring quarter.
Before it's here, it's on the Bloomberg Terminal.
LEARN MORE