Pentium: The Next Generation
Intel's powerful Pentium II will drive PC sales and keep rivals scrambling to catch up for years to come
By
You could hear the sigh of relief from San Jose to Singapore. The fourth quarter of 1996 had been disappointing for the personal computer industry, and warnings of slowing growth persisted as the new year got under way. But the first quarter of 1997 turned out to be a gem. PC sales rose more than 15% from last year, both in the U.S. and worldwide, according to market researcher Dataquest Inc. The forecast: even better, with projected growth of 20%, year-over-year, in each of the next three quarters. Wall Street was delighted by the news, boosting the shares of leading PC makers Compaq, IBM, and Dell, as much as 9% between Apr. 28 and Apr. 30.
The industry is set to get another burst of wind beneath its wings on
May 7. That's when Intel Corp. will unveil its newest microprocessor, the Pentium II. More than an ordinary upgrade, the new chip is viewed by experts as Intel's most important new product since the original Pentium in 1993. The Pentium II should fuel demand for top-of-the-line PCs the rest of this year, and, when it finds its way to the mass market, should keep consumers buying home PCs in 1998 and beyond. "Pentium II will offer plenty to make shoppers dance in the aisles," says Richard Zwetchkenbaum, a PC analyst with researcher International Data Corp.
GEARING UP. Pentium II is expected to be Intel's workhorse processor for the rest of the decade--the linchpin of its strategy to drive continued growth through relentless boosts in processor speed. And it arrives at just the right time. Many corporate customers held off upgrading their computers last year until Microsoft Corp.'s Windows NT 4.0, which runs best on Intel's newest processors, became available. The Microsoft operating system arrived last fall, and now many corporations are gearing up to replace thousands of older PCs with new Pentium Pro and Pentium II models.
What will customers do with all the horsepower? In part, they'll install more demanding programs, such as 3-D visualization tools, which can tax even the speediest Pentiums available now. But the biggest driver is multimedia--the combination of data, audio, video, graphics, and communications--which sucks up vast amounts of computing resources.
Convincing customers that they need the latest techno-wizardry and the latest PCs to handle it is key to feeding Intel's growth engine. With hot-selling chips such as the Pentium II as fuel, analysts figure the Intel machine will pump out a 38% revenue boost, to $28 billion, this year. Profits could climb more than 50%, to $8 billion, says Bear, Stearns & Co.
It's all part of the Intel master plan: The chip giant introduces a new, higher-margin microprocessor every 12 months and sends older models down the food chain to feed demand at lower price points. Intel slashed prices of older Pentium chips on Apr. 28 by as much as 48%. But its new Pentium chips with MMX multimedia technology, introduced in January, sell for $60 to $235 more, and already account for up to 40% of new PC shipments, sources close to the company say. For the rest of 1997, Intel will wind down production of older Pentiums while promoting MMX in consumer PCs. By Christmas, virtually all Pentium PCs will have MMX chips--and by 1998, Pentium IIs will be moving into mass-market price ranges.
The strategy has propelled Intel on a dizzying growth curve: Revenues have nearly quadrupled since 1992 and profits are five times 1992 levels. Rapid adoption of the Pentium II ultimately could push Intel's 60%-plus gross margins even higher, though company officials caution that ramp-up costs and price declines on older Pentium chips could soften margins for the rest of the year.
There's just one fly in the ointment this time: archrival Advanced Micro Devices Inc. AMD already has delivered a chip that lab tests show outperforms Intel's Pentium Pro and nearly matches the Pentium II--with a price tag $150 to $300 lower. Its K6 processor roared out of the gate on Apr. 2, built on technology acquired from designer NexGen Inc. "This is AMD's best-launched, timeliest, and most strategic product ever," says Kelly Henry, a semiconductor analyst for International Data Corp. "It will be very successful."
A reinvigorated AMD will keep Intel's pricing in check, likely fueling overall demand. Its lower-priced K6, for example, could lop $500 off the cost of a PC against a comparable Pentium II system. So far, Digital Equipment Corp. is the only well-known PC maker to sign up for the K6. Still, AMD could sell nearly 5 million K6 units this year, analysts say--almost a third of Intel's expected Pentium II shipments and a sizable chunk of the total Intel-compatible processors market. "AMD will gain market share, increase its average selling price, and see a financial boon," says Linley Gwennap of Micro Design Resources.
IN THE MAIL. If Intel is worried about the K6, it isn't showing it. Rather, it hopes to lock AMD out with a packaging innovation. Instead of planting the Pentium II in conventional ceramic carriers--which fit into today's PC "motherboards"--Intel houses the chip inside a cartridge that plugs into a slot on the board. The cartridge has memory chips to feed critical data to the processor at high speed. This patented arrangement boosts overall performance. And AMD won't be able to clone the cartridge any time soon--if ever.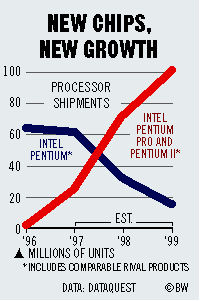 Intel says it already has shipped 100,000 Pentium IIs. And on May 7, IBM, Compaq, Dell, Hewlett-Packard, and Packard Bell/NEC, among others, will announce Pentium II systems, most costing between $3,000 and $4,000. PC makers love price points like that because they produce higher margins. Says Michael J. Winkler, Compaq's senior vice-president for PC products: The Pentium II "kind of takes the whole water level up."
Small wonder that Intel is so optimistic about the PC business--and about its own. AMD may snag a little market share, but Intel will score huge profits. And customers, getting ever more PC bang for the buck, will keep right on buying. That's the kind of scenario that will keep PC makers happy--and healthy--for months, well, maybe years, on end.