Investment Figures Of The Week
COMMENTARY
Stocks rallied mightily, with the Dow Jones industrials gaining 2.9% for the
week. The broader S&P 500 did even better, packing a 3.6% increase. Both are
within striking distance of the highs set earlier in the year. The beleaguered
small-cap stocks rallied last week, too, but they're in the red for the year.
The equity crowd took its cues from the bond market, which cheered government
economic reports of mild inflation in the midst of strong growth. Long-term
Treasuries dropped below 7% for the first time in over a month.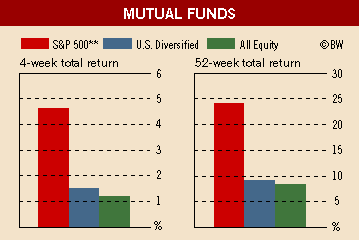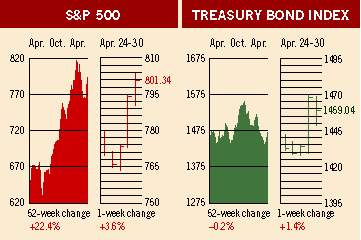 % change
      U.S. MARKETS                    Latest      Week    Year
      Dow Jones Industrials           7009.0      2.9     25.9
      NASDAQ Combined Composite       1260.8      2.7     5.9
      S&P MidCap 400                  257.1       2.3     8.4
      S&P SmallCap 600                138.7       1.6     2.8
      S&P SuperComposite 1500         170.7       3.4     20.1
      
                                                         % change
      SECTORS                         Latest      Week    Year
      Bloomberg Information Age       244.6       5.1     17.1
      S&P Financials                  90.9        6.5     38.9
      S&P Utilities                   186.1       1.7     -3.1
      PSE Technology                  250.2       3.6     13.0
      
                                                         % change
      FOREIGN MARKETS                 Latest      Week    Year
      London (FT-SE 100)              4436.0      1.1     16.2
      Frankfurt (DAX)                 3438.1      1.2     37.2
      Tokyo (NIKKEI 225)              19,151.1    2.2    -13.1
      Hong Kong (Hang Seng)           12,903.3    1.5     17.7
      Toronto (TSE 300)               5976.6      1.7     16.1
      Mexico City (IPC)               3756.6     -1.8     17.9
      
                                                      Week     Year
      FUNDAMENTALS                         Latest     ago      ago
      S&P 500 Dividend Yield               1.86%      1.90%    2.16%
      S&P 500 P/E Ratio (Last 12 mos.)     20.1       19.9     19.2
      S&P 500 P/E Ratio (Next 12 mos.)*    16.6       16.2     NA
      First Call Earnings Surprise*        3.52%      3.64%    NA
      
                                                   Week
      TECHNICAL INDICATORS              Latest     ago      Reading
      S&P 500 200-day average           730.1      726.8    Positive
      Stocks above 200-day average      56.0%      54.0%    Neutral
      Options: Put/call ratio           0.58       0.69     Negative
      Insiders: Vickers Sell/buy ratio  1.76       1.96     Positive
      
      BEST-PERFORMING        Last                             Last 12
      GROUPS                month%                            months%
      Machine Tools         18.6      Semiconductors          63.7
      Computer Software     15.6      Savings & Loans         55.8
      Trucking              12.8      Invest. Banking/Brkrge. 48.8
      Airlines              12.7      Computer Software       47.4
      Cosmetics             12.0      Household Products      46.9
      
      WORST-PERFORMING       Last                            Last 12
      GROUPS                 month%                           months%
      Oil & Gas Drilling     -14.4    Gold Mining             -34.1
      Shoes                  -12.2    Broadcasting            -17.3
      Defense Electronics    -11.7    Engineering & Constr.   -16.7
      Gold Mining            -10.1    Defense Electronics     -14.2
      Hospital Management    -5.8     Machine Tools           -11.1
      
      BLOOMBERG MONEY FLOW ANALYSIS
      Rebound ahead?  Stocks with most                  1-month
      significant buying on price weakness    Price     change
      Micron Technology                       35  3/8    -5
      Wells Fargo                             267 5/8    -16 1/2
      Texaco                                  104 1/2    -5
      Ameritech                               61         -1/4
      L.M. Ericsson-ADR                       31 1/2     -2 5/16
      Motorola                                56 7/8     -3 5/8
      
      Decline ahead?  Stocks with most                  1-month
      significant selling on price strength   Price     change
      Intel                                   150        10 7/8
      Cisco Systems                           50         1 7/8
      Ascend Communications                   41 7/16    11/16
      Philip Morris                           39 1/4     1 13/64
      WorldCom                                23 1/4     1 1/4
      Amgen                                   58 1/8     2 1/4
      
      INTEREST RATES
      
                                           Latest     Week    Year
      KEY RATES                             week%     ago%    ago%
      MONEY MARKET FUNDS                    5.08      5.06    4.84
      90-DAY TREASURY BILLS                 5.23      5.37    5.14
      6-MONTH BANK CDS                      5.23      5.22    4.87
      1-YEAR TREASURY BILLS                 5.89      6.00    5.62
      10-YEAR TREASURY NOTES                6.71      6.89    6.66
      30-YEAR TREASURY BONDS                6.95      7.09    6.89
      LONG-TERM AA INDUSTRIALS              7.47      7.61    7.46
      LONG-TERM BBB INDUSTRIALS             7.92      7.94    7.93
      LONG-TERM AA TELEPHONES               7.71      7.84    7.73
      
      BLOOMBERG MUNI YIELD EQUIVALENTS
      Taxable equivalent yields on AAA-rated, tax-exempt municipal bonds,
      assuming a 31% federal tax rate.
                                     10-yr. bond     30-yr. bond
                                     Latest  Last    Latest  Last
                                     week    week    week    week
      GENERAL OBLIGATIONS            5.05%   5.07%   5.59%   5.63%
      PERCENT OF TREASURIES          75.23   73.77   80.37   79.42
      TAXABLE EQUIVALENT             7.32    7.35    8.10    8.16
      INSURED REVENUE BONDS          5.21    5.26    5.84    5.88
      PERCENT OF TREASURIES          77.58   76.58   83.97   83.01
      TAXABLE EQUIVALENT             7.55    7.62    8.46    8.52
      
      MUTUAL FUNDS
      
      EQUITY FUNDS
      Leaders                             Laggards
      Four-week total return         %    Four-week total return       %
      EV Trad. Greater India        9.8   Amerindo Technology D      -12.8
      Papp America-Abroad           8.9   Van Wagoner Post-Venture   -12.4
      L. Roy Papp Stock             8.4   Van Wagoner Micro-Cap      -12.1
      Rydex OTC                     8.3   Blanchard Precious Metals  -11.9
      Fidelity Select Brokerage     7.7   Cappiello-Rush Gold        -11.0
      
      Leaders                             Laggards
      52-week total return           %    52-week total return         %
      Morgan Stan. Inst. Lat. Am. A 47.9  United Svcs. Gold Shares    -45.3
      Morgan Stan. Latin Amer. A    46.7  Steadman Technology Grth.   -42.6
      Vontobel Eastern Europ. Eq.   43.0  Fidelity Japan Small Co.    -40.3
      Delaware Pooled Real Estate   40.5  Govett Smaller Companies A  -40.0
      Legg Mason Value Prime        39.0  Van Wagoner Emerging Gr.    -38.0
      
      Leaders                             Laggards
      Four-week total return         %    Four-week total return       %
      Latin America                 3.7   Precious Metals             -7.6
      Financial                     3.6   Real Estate                 -2.8
      Large-cap Growth              3.4   Small-cap Growth            -2.0
      Large-cap Blend               3.3   Natural Resources           -1.9
      Large-cap Value               2.5   Small-cap Blend             -0.7
      
      Leaders                             Laggards
      52-week total return           %    52-week total return         %
      Financial                     31.1  Precious Metals             -26.8
      Latin America                 28.9  Japan                       -20.4
      Real Estate                   28.1  Small-cap Growth            -14.0
      Large-cap Blend               18.0  Diversified Pacific/Asia    -8.7
      Large-cap Value               17.4  Communications              -4.1
      
      All data are as of market close Wednesday, Apr. 30, 1997, unless otherwise 
      indicated. Industry groups include S&P 500 companies only.  Fundamentals, 
      technical indicators, Bloomberg money flow analysis, and mutual fund returns 
      are as of Apr. 29. For a more detailed explanation, write to us or E-mail 
      figures@businessweek.com.  NA=Not available  **Vanguard Index 500 Fund